My Wife Next Door - The Complete Series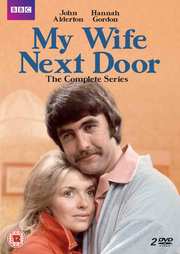 They went their separate ways…but ended up as neighbours!
Certificate: PG
Running Time: 377 Mins
Retail Price: £19.99
Release Date: 12/10/2015
Content Type: Movie
Synopsis:
These divorcees tried to get away from it all, especially each other, but their fresh starts are beginning to look suspiciously like their old ones…

When George and Suzy Bassett (John Alderton and Hannah Gordon) finalise their divorce, they're both eager for a new start in life. When they both decide to relocate to the countryside however, they are appalled to discover that they have accidentally moved into neighbourly cottages!

"This little gem from the BBC is something of a rarity" British Classic Comedy

The hilarious BAFTA winning sitcom was inspired by the rising divorce rates following the sexual liberations of the 1960s. Former BBC Broadcast Executive Sir Bill Cotton once cited My Wife Next Door as evidence that with the right treatment, any subject could be made funny. According to the Guardian the series made the concept of divorce watchable by treating the couple with affection and respect.

Also starring Diana King (The Very Merry Widow, Shillingbury Tales), Mollie Sugden (Are You Being Served?) and Richard Waring (Not in Front of the Children), the series was created by the great Brian Clemens OBE (The Avengers, The Professionals) and written by Richard Waring (Not in Front of the Children, And Mother Makes Three).
Special Features:


Video Tracks:
1.33:3 Colour

Audio Tracks:
English Mono

Directed By:
Graeme Muir

Written By:
Brian Clemens
Richard Waring

Starring:
John Alderton
Hannah Gordon
Tim Barrett
Diana King
Mollie Sugden

Soundtrack By:
Dennis Wilson

Costume Designer:
Lisa Benjamin

Producer:
Brian Clemens

Distributor:
Simply Media