One Piece Collection 11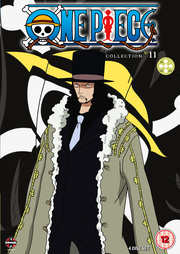 Set sail for One Piece!
Certificate: 12
Running Time: 520 mins
Retail Price: £34.99
Release Date: 2015
Content Type: TV Series
Synopsis:
Sanji stows away aboard the Sea Train, only to be joined in his battle against the CP9 goons by the heroic Soge King, a wandering warrior from the Island of Snipers! With the storm of all storms bearing down upon him, Chopper mounts a courageous rescue attempt in the rapidly rising waters. As the foreboding fortress of Enies Lobby draws ever closer, Luffy launches an impulsive attack that could spell doom for everyone!

Meanwhile, Nami hatches a plan to save Robin, and Zoro teams up with a samurai frog! The scattered Straw Hats are badly outnumbered, but with a little help from the Franky Family, they've got a fighting chance to make their reunion a reality. While his mates battle to catch up to their captain, Luffy kicks his attack mode into second gear for a shocking slugfest with Blueno!

Contains episodes 253-275.
Special Features:
Textless Credits
Audio Commentaries
On the Boat: Behind the Scenes of One Piece

Video Tracks:
1.78:1 anamorphic widescreen

Audio Tracks:
Dolby Digital 5.1 Surround English
Dolby Digital 2.0 Stereo Japanese

Subtitle Tracks:
English

Directed By:
Kônosuke Uda
Hiroaki Miyamoto
Junji Shimizu
Munehisa Sakai

Written By:
Hirohiko Uesaka
Junki Takegami
Eiichiro Oda

Starring:
Akemi Okamura
Hiroaki Hirata
Kappei Yamaguchi
Ikue Ohtani
Kazuya Nakai
Kazuki Yao
Mayumi Tanaka
Yuriko Yamaguchi
Colleen Clinkenbeard
Eric Vale
Brina Palencia
Luci Christian
Sonny Strait
Christopher R. Sabat
Stephanie Young
Patrick Seitz

Music From:
Kouhei Tanaka
Shiroh Hamaguchi

Editor:
Masahiro Goto
Nobuko Maki
Shinichi Fukumitsu

Producer:
Yoshihiro Suzuki

Distributor:
Manga Entertainment