Patlabor Mobile Police: OVA Series 2 Collection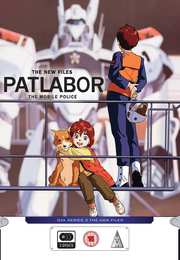 Special Vehicles Division 2 is back on duty!
Certificate: 15
Running Time: 378 mins
Retail Price: £29.99
Release Date: 2015
Content Type: TV Series
Synopsis:
Every cop has a story to tell, but not all of them are safe to show on television. That's especially true in the crazed world of the Tokyo Metropolitan Police's Special Vehicle Section, because when you toss giant robots into the mix almost anything can happen. A teddy bear holding people hostage and a search for albino alligators may just be typical days on the job, but what about an undercover mission into a public bathhouse looking for suspicious moles?

What happens when the only place where you and your coworker can wait out a typhoon is a room in one of Japan's notorious "Love Hotels"? Then there's that drunken weekend at the hot springs and the infamous "underwear incident." But not every story has a humorous edge, and what begins as a battle for corporate survival turns into a melee in the streets as the makers of the deadly Griffin return for the ultimate exercise in urban combat! Noa Izumi and the men and women of the SV2 reveal the stories that couldn't be told before!

Contains episodes 1-16. Episodes 1-4 in English. The rest are in Japanese with English subs.
Special Features:


Video Tracks:
4:3 regular

Audio Tracks:
Dolby Digital 2.0 Stereo English
Dolby Digital 2.0 Stereo Japanese

Subtitle Tracks:
English

Directed By:
Mamoru Oshii

Written By:
Kazunori Ito

Starring:
Miina Tominaga
Daisuke Gouri
Issei Futamata
Michihiro Ikemizu
Osamu Saka
Ryunosuke Ohbayashi
Shigeru Chiba
Toshio Furukawa
Yoshiko Sakakibara
You Inoue
Debora Rabbai
Elisa Wain
James Wolfe
Michael Schwartz
Adriana
Chunky Mon
Curt Gebhart
Dan Green
Frankie Rome
Jonny Asch

Music From:
Kenji Kawai