WWE Hell in a Cell 2014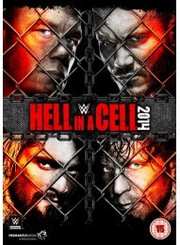 Certificate: 15
Running Time:
Retail Price: £17.99
Release Date: 19/01/2015
Content Type: TV Series
Synopsis:
All the action from Dallas as WWE most notorious feud settling arena returns.

Matches include Dolph Ziggler and Cesaro battling it out for the Intercontinental Championship, a "Lifetime in the Making match" between the Bella twins.

John Cena and Randy Orton in a cage match for the dubious honour of facing the Beast for the WWE title and will Dean Ambrose and Seth Rollins , the former faction favourites, finally settle their feud in the "Hell in a Cell"?
Special Features:
2 Out 3 Falls Intercontinental Championship Match
Dolph Ziggler Vs. Cesaro

Loser Must Be The Winner's Personal Assistant For 30 Days And If The Personal Assistant Does Not Comply, They Must Leave WWE
Brie Bella Vs. Nikki Bella

WWE Tag Team Championship Match
Goldust and Stardust Vs. The Usos

Hell In A Cell Match
The Winner Gets A Future WWE World Heavyweight Championship Match vs. Brock Lesnar
John Cena Vs. Randy Orton

United States Championship Match
Sheamus Vs. The Miz

Big Show Vs. Rusev

Divas Championship Match
AJ Lee Vs. Paige

Hell In A Cell Match
Dean Ambrose Vs. Seth Rollins


DVD Extra:

Hell in a Cell Kickoff
MIZDOW TV with The Miz

Hell in a Cell Kickoff
Mark Henry Vs. Bo Dallas

Home Video Exclusive
Goldust and Stardust Cannot Be Divided

Home Video Exclusive
TheMiz and Damien Mizdow's Vocal Training

Related Websites:
http://www.wwedvd.co.uk/hell-cell-2014-p-11882.html

Distributor:
FremantleMedia Ltd