One Piece Movie Collection 2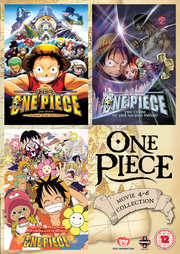 (Contains Films 4-6)
Certificate: 12
Running Time: 274 mins
Retail Price: £29.99
Release Date: 2014
Content Type: Movie
Synopsis:
For the first time ever! Never before available in the UK!

Collect One Piece The Movie 4, 5 and 6 before anyone else in the English speaking world.

- One Piece The Movie: Dead End Adventure: Luffy and The Straw Hats embark upon a dangerous pirate vessel sailing competition!

- One Piece The Movie: The Cursed Holy Sword: Luffy and the Straw Hats go in search of their companion, Zoro. With the night of the red full moon upon them and a hundred year old prophecy about to be fulfilled, can Luffy and his crew rescue their friend and defeat the evil Saga in time?

- One Piece The Movie: Baron Omatsuri and the Secret Island: Directed by acclaimed anime film-maker, Mamoru Hosada (The Girl Who Leapt Through Time, Summer Wars, Wolf Children). Things are about to get a lot darker for Luffy and his pirate crew! The Straw Hats visit a recreational island, run by Baron Omatsuri, but all is not what it seems on this island paradise. Soon the crew is captured and it s up to Luffy to free the Straw Hats from the Baron's hold.
Special Features:
Take Aim! The Pirate Baseball King short animation

Video Tracks:
1.85:1 anamorphic widescreen
1.78:1 anamorphic widescreen

Audio Tracks:
Dolby Digital 2.0 Stereo Japanese

Subtitle Tracks:
English

Directed By:
Kônosuke Uda
Kazuhisa Takenouchi
Mamoru Hosoda

Written By:
Eiichiro Oda
Yoshiyuki Suga
Masahiro Ito

Starring:
Akemi Okamura
Hiroaki Hirata
Ikue Ohtani
Kappei Yamaguchi
Kazuya Nakai
Mayumi Tanaka
Yuriko Yamaguchi
Miki Sakai
Mitsuru Miyamoto
Tarô Ishida
Hiroki Uchi
Masami Hisamoto
Shidou Nakamura
Ryoka Yuzuki
Akio Ohtsuka
Yoshito Yasuhara

Music From:
Kouhei Tanaka
Shiroh Hamaguchi
Maruo Minoru
Kazuhiko Sawaguchi

Director of Photography:
Tomokazu Shiratori
Takumi Wakao

Editor:
Masahiro Goto
Shinichi Fukumitsu

Producer:
Hideki Yamashita
Masaki Miyauchi
Satoshi Higashi
Tan Takaiwa
Tsutomu Tomari

Distributor:
Manga Entertainment