Frau Im Mond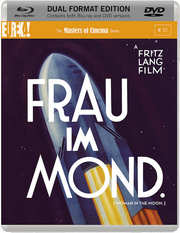 Woman in the Moon
Certificate: U
Running Time: 170 Mins
Retail Price: £19.99
Release Date: 25/08/2014
Content Type: Movie
Synopsis:
Frau im Mond. [i]Woman in the Moon.] is: (a) The first feature-length film to portray space-exploration in a serious manner, paying close attention to the science involved in launching a vessel from the surface of the earth to the valleys of the moon. (b) A tri-polar potboiler of a picture that manages to combine espionage tale, serial melodrama, and comic-book sci-fi into a storyline that is by turns delirious, hushed, and deranged. (c) A movie so rife with narrative contradiction and visual ingenuity that it could only be the work of one filmmaker: Fritz Lang.

In this, Lang's final silent epic, the legendary filmmaker spins a tale involving a wicked cartel of spies who co-opt an experimental mission to the moon in the hope of plundering the satellite's vast (and highly theoretical) stores of gold. When the crew, helmed by Willy Fritsch and Gerda Maurus (both of whom had previously starred in Lang's Spione), finally reach their impossible destination, they find themselves stranded in a lunar labyrinth without walls — where emotions run scattershot, and the new goal becomes survival.

A modern Daedalus tale which uncannily foretold Germany's wartime push into rocket-science, Frau im Mond. is as much a warning-sign against human hubris as it is a hopeful depiction of mankind's potential. The Masters of Cinema Series is proud to present in a Dual Format (Blu-ray + DVD) special edition the culmination of Fritz Lang's silent cinema, restored to its near-original length.
Special Features:
Gorgeous 1080p transfer on the Blu-ray of the F. W. Murnau-Stiftung restoration

• Original German intertitles with newly-translated optional English subtitles

• The First Scientific Science-Fiction Film – a German documentary about Frau im Mond. made by Gabriele Jacobi [15:00]

• 36-page booklet which includes a newly revised analysis by Michael E. Grost on the film, and on Fritz Lang's body of work as a whole — and more!

Video Tracks:
1.33:1 OAR
Black and White

Audio Tracks:
Stereo 2.0 Music Only

Subtitle Tracks:
German Inter titles & English sub-titles

Directed By:
Fritz Lang

Written By:
Thea von Harbou ... (novel "Frau im Mond")

Fritz Lang ... (screenplay)
Hermann Oberth ... (scientific material) (as Prof. Hermann Obert)
Thea von Harbou ... (manuscript) (as Thea v. Harbou)

Starring:
Klaus Pohl
Willy Fritsch
Wolf Helius
Gerda Maurus

Director of Photography:
Curt Courant
Oskar Fischinger
Konstantin Irmen-Tschet ... (as Konstantin Tschetwerikoff)
Otto Kanturek

Producer:
Fritz Lang

Distributor:
Eureka! The Masters of Cinema