The Liver Birds - Collection Two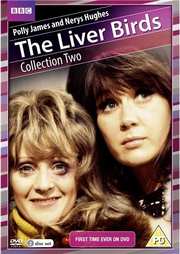 Complete Series Three
Certificate: PG
Running Time: 374 mins
Retail Price: £19.99
Release Date: 07/07/14
Content Type: Movie
Synopsis:
Never before available, this is the complete third series of The Liver Birds, the hit TV comedy series set in 1970's Liverpool starring Polly James as Beryl and Nerys Hughes as Sandra, two flatmates with ever-diverging views and a deep and hilarious friendship. Freshly moved into a bigger and more comfortable flat, Sandra and Beryl face all of life's challenges with a smile and the occasional song, from the risks of becoming Miss Hot Pants 1972 to the perils of pet parrots and hired horses; from cranky Christenings and Valentine's Day-doings to a very special poetry reading led by everybody's favourite Liverpudlian poet in a real-life appearance, Roger McGough.

The Liver Birds are back with thirteen richly comedic episodes that make up the complete third series featuring, as always, the hit theme tune by The Scaffold.

Collection Two comprises the complete third series of The Liver Birds in transmission order. The original pilot and the four episodes that made up Series One are missing, believed wiped.
Special Features:
Cast bios

Video Tracks:
4:3 Full-screen Colour

Audio Tracks:
Mono 2.0

Written By:
Carla Lane

Starring:
Nerys Hughes
Polly James

Distributor:
Acorn Entertainment