Review for Z-Cars Collection Two
Brilliant! A second helping of early seventies Z-Cars episodes, all presented in remarkably fine fettle given their age.
Z-Cars could be described as the original police procedural (if you were being kind) though it could just as easily be described as 'police soap'. It represented a move away from the cheeriness of early 'Dixon of Dock Green' to a grittier style, not qute reaching the dizzy cynical heights of 'The Sweeney', but certainly representing an important stepping stone towards it.
Set in Newtown, a fictional setting to the North of Liverpool, it captures a time when coppers were leaving the beat for fast-paced response vehicles – the Z-Cars of the title. Though these vehicles look almost laughable now, at the start of this series in 1962, they represented something very new and exciting.
This second collection of episodes from the series' tenth year is even more fun than the first, containing some excellent episodes. The very best of these are to be found on the second disc, with a trio of episodes that are really standout. Seeing these makes it very easy to understand why the show would regularly attract audiences of 10 million viewers and why it ran for some 800+ episodes across 16 years. Indeed, so great was its popularity that for a time it ran to two episodes a week and even spawned a successful spin-off (Softly Softly) which sometimes ran concurrently.
As the show was primarily recorded to video-tape in a studio (other than the grainy exterior footage which was shot on more portable 16mm) many episodes are missing, presumed wiped.
There are many surviving episodes from its early 1962–65 run though for the 1967–71 sixth series, when the programme was shown almost every week, only 108 episodes survive from more than 400. Overall about 40% of the total number of episodes survive – or in plain terms, around 300 episodes.
It's curious that Acorn have decided to start their release programme with these particular episodes but having said that, they are of a very high standard, not only regarding their general condition but by any dramatic standard too.
Here's what you get. (These are from the later 50 minutes per episode series rather than 25 minutes):
1. Witness (Originally Broadcast 25th September 1972)
2. Takes all Sorts (Originally Broadcast 2nd October 1972)
3. Sins of the Father (Originally Broadcast 9th October 1972)
4. Damage (Originally Broadcast 16th October 1972)
5. Day Trip (Originally Broadcast 23rd October 1972)
6. Public Relations (Originally Broadcast 30th October 1972)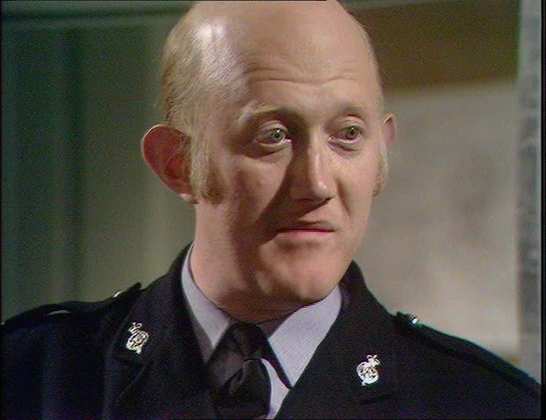 For me the stand-out episodes here are all on Disc 2 – which is not to say that Disc 1 is poor. 'Witness' for example is a good drama with a surprising twist where even the victim is not all he seems to be. But Disc 2 is ALL quality. Firstly the incredibly spooky 'Damage' which is an extremely dark psycho-drama with a very strange atmosphere. Featuring a jobbing burglar getting more than he bargains for when he pushes his hand through a letterbox to open a front door. Nothing is quite what is seems!
'Day Trip' is also rather good when a regular shop-lifter comes to town – and is sent back on the first bus. In a plot containing more sub-plots than Twin Peaks, this entertaining episode is a great example of how effective good police procedural drama can be.
'Public Relations' is an excellent expose of the relationship between the media and the police – where it becomes clear that the two need one another to succeed, even if it sometimes seems a little less than strictly moral. How prescient given the recent News of the World phone hacking scandals.
Disc 1 houses a generous selection of extra features in the form of interviews. They are fun to see with contributions from many of the core surviving contributors including with Geoffrey Hayes, better known for his time with Rainbow.
There is also a moving tribute (via interviews) of one of the show's stalwarts, Irish actor, James Ellis who died very recently (March this year). You can see that he was extremely well-liked and some of the interviews get quite emotional as his passing must have been within weeks or days of these interviews.
All in all a great package that any archive TV fan will want to add to their collection. If it sounds like your thing then a purchase might encourage the fine folk at Acorn to continue to release more of these gems!