Sisters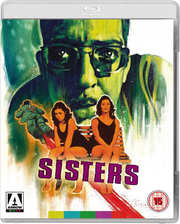 Certificate: 15
Running Time: 93mins
Retail Price: £24.99
Release Date: 28/04/14
Content Type: Movie
Synopsis:
Before 1973, Brian De Palma was impossible to pigeonhole: he made comedies, political satires and openly experimental pieces. But with Sisters (originally released as Blood Sisters in the UK) he turned to the suspense thriller and discovered his natural home – and a style that would lead directly to later masterpieces like Carrie, Dressed to Kill and Blow Out.
When Danielle (Margot Kidder) meets potential boyfriend Philip (Lisle Wilson) after appearing on the TV show Peeping Toms (a nod to the Michael Powell shocker), she invites him home, only to attract the ire of her twin sister Dominique. From across the courtyard, Rear Window-style, reporter Grace (Jennifer Salt) witnesses Philip being murdered by one of the twins – but the police find no body or any physical evidence. Naturally, Grace takes things into her own hands, and discovers more about the sisters' relationship than she bargained for…

Strongly influenced by Alfred Hitchcock and Roman Polanski, and with a score by the great Bernard Herrmann (Citizen Kane, Psycho), Sisters was the first true "Brian De Palma" film.
Special Features:
- What the Devil Hath Joined Together: Brian De Palma's Sisters – A visual essay by author Justin Humphreys (47 mins)

-All new interviews with co-writer Louisa Rose, actress Jennifer Salt, editor Paul Hirsch and unit manager Jeffrey Hayes

-The De Palma Digest – a film-by-film guide to the director's career by critic Mike Sutton

-Archive audio interview with star William Finley (excerpt)

-Gallery of Sisters promotional material from around the world
- Theatrical trailer
- Reversible sleeve featuring original and newly commissioned artwork by Graham Humphreys
- Illustrated collector's booklet featuring new writing on the film by author Kier-La Janisse (House of Psychotic Women), Brian De Palma's original 1973 Village Voice essay on working with composer Bernard Herrmann as well as a contemporary interview with De Palma on making Sisters, and the 1966 Life magazine article that inspired the film.

DUAL FORMAT BLU-RAY/DVD

Video Tracks:
1.78:1

Audio Tracks:
Mono

Directed By:
Brian De Palma

Starring:
Margot Kidder