Assault On Wall Street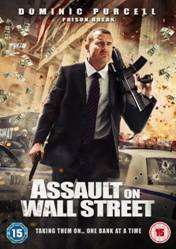 Certificate: 15
Running Time: 99 Mins
Retail Price: £12.99
Release Date: 19/05/2014
Content Type: Movie
Synopsis:
Starring Dominic Purcell, Edward Furlong, John Heard and Eric Roberts

Jim (Dominic Purcell) is a blue-collar New Yorker, working hard to earn a living and support his sick wife, Rosie (Erin Karpluk). But when he loses his job and his life savings at the hands of corrupt Wall Street officials he decides to take matters into his own hands.

No longer willing to be abused and exploited by greedy financial institutions, he is left with only one choice: to strike back and claim a justice all of his own.
Special Features:


Related Websites:
http://www.distribution.metrodomegroup.com/catalogue
http://www.play.com/DVD/DVD/4-/61947982/Assault-On-Wall-Street/Product.html?searchstring=assault+on+wall+street&searchsource=0&searchtype=allproducts&urlrefer=search

Directed By:
Uwe Boll

Written By:
Uwe Boll

Starring:
Dominic Purcell, Edward Furlong, Keith David, Clint Howard, Erin Karpluk, John Heard and Eric Roberts

Distributor:
Metrodome Distribution