Star Trek VI: The Undiscovered Country (UK)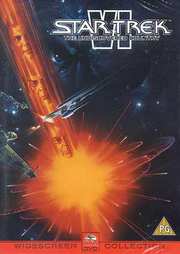 The battle for peace has begun
Certificate: PG
Running Time: 109 mins
Retail Price: £19.99
Release Date:
Content Type: Movie
Synopsis:
The Enterprise leads a battle for peace in the most spectacular Star Trek adventure ever! After years at war, the Federation and the Klingon empire prepare for a peace summit. But the prospect of intergalactic glasnost with sworn enemies is an alarming one to Admiral Kirk (William Shatner). "They`re animals!" he warns.

When a Klingon ship is attacked and the Enterprise is held accountable, the dogs of war are unleashed again, as both worlds brace for what may be their final, deadly encounter.

Directed by Nicholas Meyer, this topical action-adventure soars with warp-speed excitement that`s "impossible to resist" James Verniere, Boston Herald.
Special Features:
Interactive Menus
Scene Access
Theatrical Trailer

Video Tracks:
Widescreen Letterbox 1.85:1

Audio Tracks:
Dolby Digital 5.1 English
Dolby Digital Stereo 2.0 English

Directed By:
Nicholas Meyer

Written By:
Denny Martin Flinn
Nicholas Meyer
Mark Rosenthal
Lawrence Konner
Leonard Nimoy
Gene Roddenberry

Starring:
Kim Cattrall
George Takei
Nichelle Nichols
Walter Koenig
James Doohan
DeForest Kelley
Leonard Nimoy
William Shatner

Casting By:
Mary Jo Slater

Soundtrack By:
Cliff Eidelman

Director of Photography:
Hiro Narita

Editor:
Ronald Roose

Costume Designer:
Dodie Shepard

Production Designer:
Herman F. Zimmerman

Producer:
Ralph Winter
Steven-Charles Jaffe
Marty Hornstein
Brooke Breton

Executive Producer:
Leonard Nimoy

Distributor:
Paramount Pictures