Hobson's Choice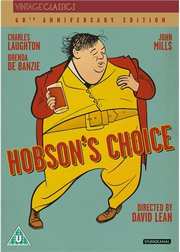 Certificate: U
Running Time: 104 Mins
Retail Price:
Release Date: 05/05/2014
Content Type: Movie
Synopsis:
Henry Horatio Hobson (Academy Award-Winner CHARLES LAUGHTON) is the owner of a well established boot shop in nineteenth century Salford, Lancashire and the father of three daughters. The oldest, Maggie (BRENDA DE BANZIE), shoulders both home and business responsibilities while Hobson whiles the time away at the local pub. The younger sisters are both being courted by neighbours, but Hobson refuses to give the couples settlements. Maggie becomes tired of his oafish behaviour and decides to take matters into her hands by seeking a husband.

Much to the hilarity and consternation of her father, aged spinster Maggie sets her sights on shy Will Mossop (JOHN MILLS), Hobson's master boot-maker. Mossop is at first stunned by the suggestion, but eventually agrees to Maggie's authoritative persuasion, and together they set up a rival boot shop. A timeless masterpiece that marked a temporary return to DAVID LEAN'S period adaptations of Dickens (Great Expectations, Oliver Twist). The film went on to win multiple awards.

This film has been digitally restored to its former glory.
Special Features:
New and exclusive interviews with Prunella Scales and screenwriter Norman Spencer

Related Websites:
http://www.studiocanal.co.uk/AtHome

Directed By:
David Lean

Written By:
David Lean, Norman Spencer

Starring:
Charles Laughton
John Mills
Brenda De Banzie
Prunella Scales