Naruto Shippuden: Box Set 16 (2 Discs)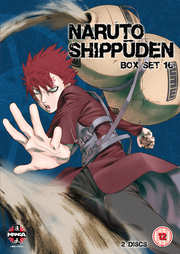 The storm clouds of war gather...
Certificate: 12
Running Time: 294 mins
Retail Price: £24.99
Release Date: 2014
Content Type: TV Series
Synopsis:
In the aftermath of the attack on the village, Naruto and Sakura are shocked to discover that Danzo has been selected as the new Hokage. And his first order of business involves Team 7's own Rogue Ninja - Sasuke! Then, the Kage from each village gather for a summit in the Land of Iron, and Naruto seeks a pardon for Sasuke from the Raikage.

But the cycle of hatred runs deep in the shinobi world, and while the Five Kage discuss how to deal with the Akatsuki, the mysterious one calling himself Madara steps forward to reveal truths that will turn Naruto's world upside down!

Contains episodes 193-205.
Special Features:
Storyboard Gallery
Production Art Gallery
Trailers

Video Tracks:
1.78:1 anamorphic widescreen

Audio Tracks:
Dolby Digital Stereo 2.0 Japanese
Dolby Digital Stereo 2.0 English

Subtitle Tracks:
English

Directed By:
Hayato Date

Written By:
Junki Takegami
Masahiro Hikokubo
Satoru Nishizono
Shin Yoshida
Toshiyuki Tsuru
Yasuaki Kurotsu
Yasuyuki Suzuki
Yuka Miyata
Masashi Kishimoto

Starring:
Chie Nakamura
Junko Takeuchi
Noriaki Sugiyama
Akira Ishida
Hideo Ishikawa
Houchu Ohtsuka
Kazuhiko Inoue
Masako Katsuki
Nana Mizuki
Romi Park
Yoichi Masukawa
Kate Higgins
Maile Flanagan
Yuri Lowenthal
Brian Donovan
Crispin Freeman
Dave Wittenberg
David Lodge
Debi Mae West
Liam O'Brien

Music From:
Yasuharu Takanashi

Director of Photography:
Atsuho Matsumoto

Distributor:
Manga Entertainment