Berlioz: Les Troyens (Pappano)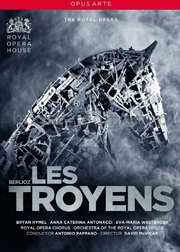 Recorded live at The Royal Opera House, July 2012
Certificate: N/A
Running Time: c.254 mins
Retail Price:
Release Date:
Content Type: Movie
Synopsis:
Les Troyens is a tour de force that ranges from fiery military marches to intense choruses, passionate soliloquies and the lyrical love duets of Dido and Aeneas. For Hector Berlioz, librettist and composer, the opera became the work of decades and the passion of a lifetime, the culmination of his literary love affaie with with Virgil's Aeneid and with two tragic heroines, Cassandra and Dido.

David McVicar's staging is on an enormous scale, assembling one of the largest casts ever seen at Covent Garden. The sweeping theme of the rise and fall of empires runs throughout the opera along with moving meditations on love and honour.

Filmed in High Definition and recorded in true Surround Sound.
Special Features:
Introductions by Antonio PAppano
Designer Es Devlin explains the model box
Royal Opera House Insight Event: Les Troyens
Cast Gallery

Related Websites:
http://www.roh.org.uk/
https://www.opusarte.com/

Video Tracks:
NTSC 16:9 Anamorphic

Audio Tracks:
DTS
DD Stereo

Subtitle Tracks:
English
French
German
Spanish
Japanese
Korean