Gluck: Iphigénie en Aulide/ Iphigénie en Tauride (Minkowski)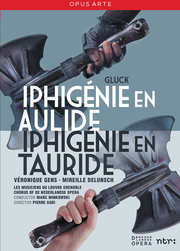 Recorded live at The Amsterdam Music Theatre, September 2011
Certificate: N/A
Running Time: c.229 mins
Retail Price:
Release Date:
Content Type: Movie
Synopsis:
Two late and baleful tragedies by Euripides focus on the ill-starred daughter of the Greek King, Agamemnon. Will he sacrifice Iphigenia in order to secure fair winds for his voyage to Troy? In Aulis, the drama rages until she is spared. Having escaped to Tauris, Iphigenia finds herself compelled to kill her own brother before, once more, the fickle gods intervene.

Gluck's operatic settings are very rarely staged in tandem, but Pierre Audi's production makes a darkly compelling case for their dramatic unity. All the lead performers here are experienced exponents of Gluck, and together they present a powerfully idiomatic experience.

Filmed in high definition and recorded in true Surround Sound.
Special Features:
Behind the scenes documentaries
Cast Gallery

Related Websites:
http://operaballet.nl/en/opera/opera
http://www.opusarte.com/

Video Tracks:
NTSC 16:9 Anamorphic

Audio Tracks:
DTS
LPCS Stereo

Subtitle Tracks:
English
French
German
Dutch
Korean