Lust in the Dust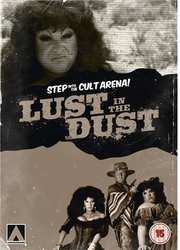 Certificate: 15
Running Time: 85 mins
Retail Price: £12.99
Release Date: 09/12/2013
Content Type: Movie
Synopsis:
The sun beats down hard on the town of Chili Verde, New Mexico - where temperatures flare and passions reach boiling in the midday heat. The locals spend their days downing Tequila and breaking bottles over heads... and that's just the womenfolk!

When Abel Wood, an enigmatic lone cowboy type, comes riding into town, the locals immediately suspect that he has come in search of the legendary buried gold. Quick on the draw and tall in the saddle he may be, but Abel faces stiff competition if he's to get his hands on the prized booty.

Lust in the Dust is a treat for both fans of Westerns and lovers of John Waters-type subversive humour, featuring the inimitable Divine (Hairspray, Pink Flamingos) in a typically larger-than-life performance; whilst Tab Hunter, in the role of Abel, delivers a sharp-shooting, gun-toting turn worthy of Clint himself.
Special Features:
Original trailer
Collector's booklet
Reversible sleeve of original artwork

Related Websites:
http://www.arrowfilms.co.uk/lust-in-the-dust/#details

Video Tracks:
2.35:1 Colour

Audio Tracks:
Mono

Directed By:
Paul Bartel

Written By:
Philip John-Taylor

Starring:
Tab Hunter
Divine
Lainie Kazan
Geoffrey Lewis
Henry Silva
Cesar Romero
Gina Gallego

Casting By:
Ross Brown
Mary West

Soundtrack By:
Peter Matz

Director of Photography:
Paul Lohmann

Editor:
Alan Toomayan

Costume Designer:
Dona Granata

Producer:
Allan Glaser
Tab Hunter

Executive Producer:
James C. Katz
Robert Raymond

Distributor:
Arrow Films