Naruto Shippuden: Box Set 13 (2 Discs)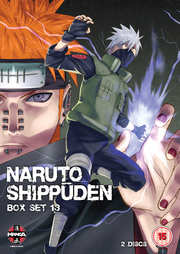 Welcome to the six paths of pain...
Certificate: 15
Running Time: 294 mins
Retail Price: £24.99
Release Date: 2013
Content Type: TV Series
Synopsis:
Naruto and his friends successfully decipher the code Jiraiya left behind, but it's not enough to solve the mystery of Pain. For Naruto, Jiraiya's passing is more than enough to inspire him to follow Fukasaku to Mount Myoboku, where he begins his training in Sage Jutsu. But will the antsy Naruto ever be able to sit still long enough to achieve Sage Mode?

Back in the Leaf Village, disaster strikes when the Six Paths of Pain attack the village, and those dearest to Naruto are thrown into the chaos of battle!

Contains episodes 154-166.
Special Features:
Production Art Gallery
Trailers

Video Tracks:
1.78:1 anamorphic widescreen

Audio Tracks:
Dolby Digital Stereo 2.0 Japanese
Dolby Digital Stereo 2.0 English

Subtitle Tracks:
English

Directed By:
Hayato Date

Written By:
Junki Takegami
Masahiro Hikokubo
Satoru Nishizono
Shin Yoshida
Toshiyuki Tsuru
Yasuaki Kurotsu
Yasuyuki Suzuki
Yuka Miyata
Masashi Kishimoto

Starring:
Chie Nakamura
Junko Takeuchi
Noriaki Sugiyama
Akira Ishida
Hideo Ishikawa
Houchu Ohtsuka
Kazuhiko Inoue
Masako Katsuki
Nana Mizuki
Romi Park
Yoichi Masukawa
Kate Higgins
Maile Flanagan
Yuri Lowenthal
Brian Donovan
Crispin Freeman
Dave Wittenberg
David Lodge
Debi Mae West
Liam O'Brien

Music From:
Yasuharu Takanashi

Director of Photography:
Atsuho Matsumoto

Distributor:
Manga Entertainment