Code Geass: Lelouch of the Rebellion - Complete Season 2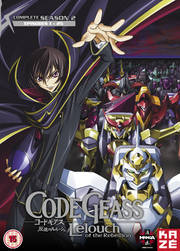 Once friends, now enemies.
Certificate: 15
Running Time: 573 mins
Retail Price: £39.99
Release Date: 2013
Content Type: TV Series
Synopsis:
On August 10th of the year 2010 the Holy Empire of Britannia began a campaign of conquest, its sights set on Japan. In the span of one month the island nation was conquered. As a dominion of the Empire the newly acquired territory was renamed Area 11. The rights of its citizens were severely limited and an economic depression followed for the Japanese, now known as Elevens.

Just as things seemed at their bleakest one man chose to stand up and fight, the masked crusader Zero. Leading his Order of Black Knights, Zero instigated a full scale revolution against Britannia culminating in one final battle, the Black Rebellion. Heavy casualties were seen by both sides but ultimately Britannia stood the victor resulting in Zero's execution. And thus was history written.

The year is now 2018. With Zero dead and the remnants of the Black Knights being swept up by the Britannian forces, a forced state of peace settles over Area 11. The rights of the Elevens remain limited but with no one to lead them and the defeat during the Black Rebellion hanging over them, the Japanese people remain under the boot of Britannian oppression with no hope to overcome.
Special Features:
Sketch Galleries
Textless Credits

Video Tracks:
1.78: anamorphic widescreen

Audio Tracks:
Dolby Digital 2.0 Surround Japanese
Dolby Digital 2.0 Surround English

Subtitle Tracks:
English

Directed By:
Goro Taniguchi

Written By:
Ichiro Okouchi
Goro Taniguchi

Starring:
Jun Fukuyama
Takahiro Sakurai
Yukana
Akeno Watanabe
Ami Koshimizu
Fumiko Orikasa
Jouji Nakata
Junko Minagawa
Kaori Nazuka
Kazato Tomizawa
Kazunari Tanaka
Ken Narita
Kikuko Inoue
Masayo Kurata
Mitsuaki Madono
Noriaki Sugiyama
Norihiro Inoue
Omi Minami
Saeko Chiba
Sayaka Ohara
Tetsu Shiratori
Yuuji Takada
Johnny Yong Bosch
Kate Higgins
Yuri Lowenthal
Amy Kincaid
Brian Beacock
Cindy Robinson
Crispin Freeman
David Vincent
Deborah Sale Butler
Jamieson Price
Julie Ann Taylor
Karen Strassman
Kim Mai Guest
Kirk Thornton
Laura Bailey
Liam O'Brien
Mary Elizabeth McGlynn
Megan Hollingshead
Michael Lindsay
Michelle Ruff
Rebecca Forstadt
Roger C. Smith
Steven Blum
Travis Willingham
Troy Baker

Music From:
Hitomi Kuroishi
Kotaro Nakagawa

Director of Photography:
Souta Ooya

Editor:
Seiji Morita

Producer:
Atsushi Yukawa
Hiroshi Morotomi
Takao Minegishi
Yoshitaka Kawaguchi

Distributor:
Manga Entertainment