Bret Hitman Hart: Wrestling With Shadows 10th Anniversary Collector's Edition DVD with bonus 2nd disc: The Life & Death of Owen Hart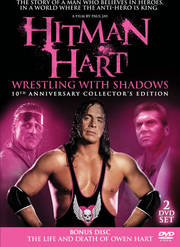 Certificate: E
Running Time: 185 Mins
Retail Price: £14.99
Release Date: 28/01/2013
Content Type: Movie
Synopsis:
Wrestling With Shadows
Over the span of one year, a documentary film crew followed Bret Hart. They hoped for an unprecedented look behind the scenes of the WWE. What they got was the most dramatic story in the history of wrestling.

Hitman Hart: Wrestling With Shadows goes behind the tightly guarded walls of wrestling's world of grand spectacle and theatre. The film explores the meaning of today's wrestling morality plays, and then, as fantasy crosses into real life, reveals the true story of Bret Hart's struggle with Vince McMahon, the legendary owner of the WWE. The film climaxes with the tale of the biggest, real double cross in the history of pro wrestling.

This film is about good and evil, sacrifice and greed, loyalty and betrayal and a man in a world of moral uncertainty, fighting to keep a sense of personal dignity and truth.

The Life & Death of Owen Hart looks at the career of Bret Hart's younger brother Owen and his tragic death in 1999.
Special Features:
- Interview with Director Paul Jay
- Interview with Bret Hart - 10 Years Later

Related Websites:
http://www.silvervision.co.uk/products/Wrestling-With-Shadows-10th-Anni-Collector-s-Edition-DVD-2-Discs.html

Distributor:
Clear Vision Ltd