WWE Brock Lesnar: Here Comes The Pain Collector's Edition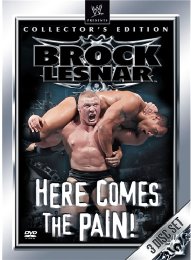 Certificate: 18
Running Time: 417 Mins
Retail Price: £17.99
Release Date: 19/11/2012
Content Type: Movie
Synopsis:
The night after WrestleMania XXVIII, Brock Lesnar made a shocking return to the ring and leveled John Cena with an F-5, sending a message that after eight years, the pain is back!

In 2002 and 2003, The Next Big Thing brought it to the biggest and baddest competition in WWE, becoming the youngest WWE Champion of all time and a household name virtually overnight. His awe-inspiring physique, amateur championship pedigree and affinity for punishing opponents made him an unstoppable force in the ring. Now, after years of dominating the MMA scene, Brock is back and looking to steamroll the biggest Superstars of today.

This rerelease of the 2003 DVD, Here Comes the Pain, includes the original documentary that chronicles Brock's meteoric rise to fame, as well as six hours of additional matches not included on the original DVD!

Plus, hear Brock's controversial comments upon his return to sport entertainment! . Fans can experience classic matches against Hulk Hogan, Undertaker, Rey Mysterio, Randy Orton and many more!
Special Features:
Brock Lesnar makes his WWE Debut
18th March, 2002

"The Next Big Thing" takes on the Hardy Boyz
8th April, 2002

Brock Lesnar returns to WWE
2nd April, 2012

Coming Back

Brock Lesnar vs. Leviathan
Ohio Valley Wrestling 28th September, 2001

OVW Southern Tag Team Championship Match
Rico Constantino & Prototype vs. The Minnesota Stretching Crew
Ohio Valley Wrestling 10th November, 2001

Jeff Hardy vs. Brock Lesnar
Backlash 21st April, 2002

King of the Ring Finals
Rob Van Dam vs. Brock Lesnar
King of the Ring 23rd June, 2002

Rob Van Dam & 'Nature Boy' Ric Flair vs. Undertaker & Brock Lesnar
Raw 15th July, 2002

#1 Contender Match for the WWE Undisputed Championship
Hollywood Hulk Hogan vs. Brock Lesnar
SmackDown 8th August , 2002

WWE Undisputed Championship Match
The Rock vs. Brock Lesnar
SummerSlam 25th August, 2002

Brock Lesnar vs. Randy Orton
SmackDown 5th September, 2002

WWE Undisputed Championship Match
Brock Lesnar vs. Undertaker
Unforgiven 22nd September, 2002

Hell in a Cell Match for the WWE Championship
Undertaker vs. Brock Lesnar
No Mercy 20th October, 2002

Royal Rumble Match
Royal Rumble 19th January, 2003

WWE Championship Match
Brock Lesnar vs. Kurt Angle
WrestleMania XIX 30th March, 2003

WWE Championship Match
Brock Lesnar vs. John Cena
Backlash 27th April, 2003

60-Minute Iron Man Match for the WWE Championship
Kurt Angle vs. Brock Lesnar
SmackDown 18th September, 2003

Rey Mysterio vs. Brock Lesnar
SmackDown 11th December, 2003

WWE Championship Match
Brock Lesnar vs. Big Show
SmackDown 12th June, 2003

Interpromotional Match
Goldberg vs. Brock Lesnar
WrestleMania XX 14th March, 2004

Related Websites:
http://www.silvervision.co.uk/products/Brock-Lesnar-Here-Comes-The-Pain-Collector-s-Edition-DVD-3-Discs.html

Distributor:
Clear Vision Ltd