Rasputin The Mad Monk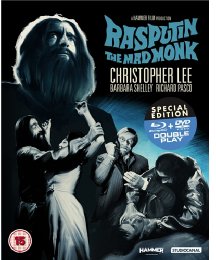 Certificate: PG
Running Time: 90 Mins
Retail Price: £19.99
Release Date: 22/10/2012
Content Type: Movie
Synopsis:
Beware his deathly gaze for it will render you powerless! Beware his mystic touch for you will never be free from his evil grasp!

In pre-revolution St Petersburg, Russia, sinister monk Grigori Rasputin proves that he has the unearthly power to ease the deranged and heal the sick, but at what price? Aided by his hypnotic powers Rasputin begins his ruthless and depraved pursuit of power and wealth, determined to give God sins worth forgiving. He must be stopped, but how do you rid the world of a man who defies death?

Horror legends Christopher Lee (Dracula Prince Of Darkness) and Barbara Shelley (Quatermass And The Pit) star in a controversial film about one of history's most notorious figures.
Special Features:
Double Play Edition' includes the movie on 2 formats: Blu-ray & DVD!
•Tall Stories: The Making of Rasputin The Mad Monk - Documentary
•Brought to Book: Hammer Novelisations - Documentary
•World of Hammer Episode 'Costumers'
•Gallery
•Commentary featuring Christopher Lee, Barbara Shelley, Francis Matthews & Suzan Farmer

Directed By:
Don Sharp

Written By:
Anthony Hinds (as John Elder)

Starring:
Christopher Lee
Barbara Shelley
Richard Pasco
Francis Matthews
Suzan Farmer
Dinsdale Landen
Renée Asherson
Derek Francis
Joss Ackland
Robert Duncan
Alan Tilvern
John Welsh
John Bailey
Michael Ripper

Soundtrack By:
Don Banks

Director of Photography:
Michael Reed

Editor:
Roy Hyde

Producer:
Anthony Nelson Keys

Distributor:
Studio Canal