Glengarry Glen Ross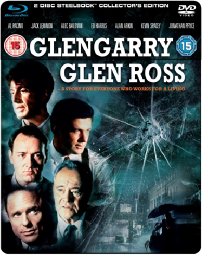 Certificate: 15
Running Time:
Retail Price: £15.99
Release Date: 22/10/2012
Content Type: Movie
Synopsis:
Adapted from his Pulitzer Prize winning play, Glengarry Glen Ross shows David Mamet, at his searing, profane best.

A group of Chicago real-estate salesmen-cum-con artists live on the edge... life is good for the one on a roll, for the rest, life hangs in the balance. There is no room for losers. A-B-C Always Be Closing, sell or go under, is the salesman's mantra. With the pressure on, so begins a rainy night of cut-throat business and shattered lives.

Oscar nominated Al Pacino plays the fast talking Ricky Roma, alongside a phenomenal performance by Jack Lemmon as the veteran Shelly "The Machine" Levene, struggling to keep his neck above water. With a star studded ensemble cast featuring Kevin Spacey, Alec Baldwin, Ed Harris and Alan Arkin.

This classic film is available for the first time on Blu-ray and exclusive DVD and Blu-ray combo steel book.
Special Features:
Commentary by Director James Foley

"A.B.C. (Always Be Closing)": an original documentary tracing the psychological intersection of fictional and real life salesman

A Tribute to Jack Lemmon

"J. Roy: New and Used Furniture"
Short Clip archives from The Charlie Rose Show and Inside the Actor's Studio
Scenes with bonus audio commentary by:
Alec Balwin
Cinematographer Juan Ruiz Anchia
Alan Arkin
Production designer Jane Musky
Original theatrical trailer

Related Websites:
http://www.itvstudios.com/

Directed By:
James Foley

Written By:
David Mamet

Starring:
Al Pacino, Jack Lemmon, Alec Baldwin, Ed Harris, Alan Arkin, Kevin Spacey, Jonathan Pryce & Bruce Altman

Distributor:
ITV Studios Home Entertainment