The Land That Time Forgot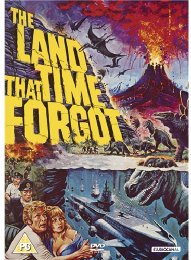 Certificate: PG
Running Time: 87 Mins
Retail Price: £15.99
Release Date: 20/07/2012
Content Type: Movie
Synopsis:
Rediscover The Land That Time Forgot, a lost world with Dinosaurs, hostile tribes and deadly wildlife in this much loved Sci-Fi Classic.

When a German U-Boat torpedoes a British supply ship, the survivors manage to swim to the surfacing German vessel. Among the survivors are Bowen Tyler (Hollywood superstar Doug McClure) a young allied soldier and a young biologist Lisa Clayton (Susan Penhaligon).

They manage to force their way onto the ship and overpower the German crew. Despite sending signals to an allied ship that they have commandeered the German vessel, they are depth charged and forced to allow the German crew to steer the vessel to rendezvous with a German supply boat.

They drift of course and find a strange island. Whilst investigating what the island has to offer the crew are attacked by a huge pre historic monster and a tribe of primitive humans. Lisa is kidnapped in the fight and Bowen rushes after the tribe to rescue her.

When a huge volcano erupts Bowen's plight to rescue Lisa becomes even more desperate. Can he save them and get back to the Submarine before they are killed by the oncoming lava?
Special Features:
Kevin Connor Interview
Susan Penghaligon Interview
Stills/Poster Gallery

Video Tracks:
1.85:1 Colour

Audio Tracks:
Mono 2.0

Directed By:
Kevin Connor

Written By:
Edgar Rice Burroughs (novel)
James Cawthorn (screenplay) and
Michael Moorcock (screenplay)


Starring:
Doug McClure
John McEnery
Susan Penhaligon
Keith Barron
Anthony Ainley
Godfrey James
Bobby Parr
Declan Mulholland
Colin Farrell
Ben Howard
Roy Holder
Andrew McCulloch

Soundtrack By:
Douglas Gamley

Director of Photography:
Alan Hume

Editor:
John Ireland

Costume Designer:
Julie Harris

Production Designer:
Maurice Carter

Visual Effects:
Roger Dicken .... dinosaur sequences
Derek Meddings .... special effects supervisor

Producer:
John Dark .... producer
John Peverall .... associate producer
Samuel Z. Arkoff .... producer (uncredited)
Max Rosenberg .... co-producer (uncredited)
Milton Subotsky .... co-producer (uncredited)

Executive Producer:
Robert H. Greenberg .... executive producer

Distributor:
Studio Canal