War of the Worlds: Season 1 Boxset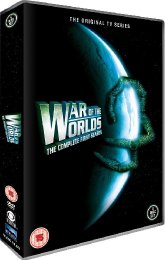 The complete first series
Certificate: 15
Running Time: 1087 mins
Retail Price: £34.99
Release Date: 2012
Content Type: TV Series
Synopsis:
In 1953, the war began: Martian invaders, bent on the conquest of Earth, destroy human civilisation and leave death and panic in their wake. If not for our planet's tiniest bacteria, they would have wiped human existence from the Earth. Captured and quarantined, the aliens' threats are all but forgotten; their insidious plans lay dormant for decades.

But now, freed from captivity, revived and resuscitated, they vow not to repeat their mistakes. And if not for a small band of human resistance fighters, they may yet get the chance to finish what they started...

Here, for the first time on DVD, War of the Worlds: The Complete First Season continues the story of alien attack, human defiance, and interplanetary war in this six-disc box set. Let the battle begin.
Special Features:


Video Tracks:
4:3 regular

Audio Tracks:
Dolby Digital 2.0 Surround English

Directed By:
William Fruet
George Bloomfield
Neill Fearnley
Armand Mastroianni

Written By:
Greg Strangis

Starring:
Jared Martin
Lynda Mason Green
Philip Akin
Richard Chaves
Rachel Blanchard

Casting By:
Susan Forrest

Music From:
Billy Thorpe
Joe Delia
Harry Manfredini

Director of Photography:
Maris H. Jansons
Ron Stannett
Robert Saad

Editor:
Tim Williams
Steve Weslak

Production Designer:
Gavin Mitchell

Producer:
Jonathan Hackett
Herbert Wright

Executive Producer:
Greg Strangis
Sam Strangis
Jon Anderson
Frank Mancuso Jr.

Distributor:
Revelation Films