Pergolesi: Adriano in Siria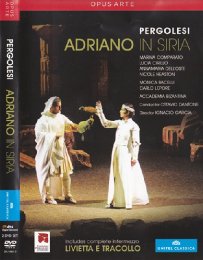 Filmed live over two nights in June, 2010
Certificate: N/A
Running Time: c.190 mins
Retail Price: £29.99
Release Date: 01/11/2011
Content Type: Movie
Synopsis:
For the festivities marking Giovanni Battista Pergolesi's tercentenary in his native Jesi, Ignacio García created a new staging of the imperial drama Adriano in Siria.

His staging in Jesi's exquisite 18th century Teatro G.B. Pergolesi includes the delightful comic intermezzo Livietta e Tracollo, thus following the precedent set at the premiere in 1734.

A fine italian cast and the distinguished Accademia Bizantina are led by the Accademia's director, Ottavio Dantone.
Special Features:
Ottavio Danonte on 'Adriano in Siria'
Cast Gallery

Related Websites:
http://www.fondazionepergolesispontini.com/fps/index.php?lang=en
http://www.opusarte.com/en/

Video Tracks:
NTSC 16: 9

Audio Tracks:
DTS
LPCM Stereo

Subtitle Tracks:
English
French
German
Spanish
Italian