Arctic Blast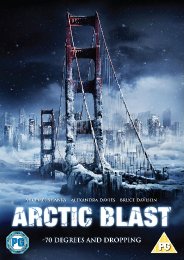 -70 degrees and dropping
Certificate: PG
Running Time: 88 mins
Retail Price: £12.99
Release Date: 2011
Content Type: Movie
Synopsis:
When a solar eclipse sends a colossal blast of super chilled air towards the earth, it sets off a catastrophic chain of events that threatens to engulf the world in ice!

A US research vessel sits on a calm Antarctic Ocean studying the thinning of the ozone when suddenly a blast of sub zero air strikes the vessel, causing the horrific and instant deaths of the crew.

When Jack Tate (Michael Shanks, Stargate SG1), a brilliant, yet troubled physicist learns about the bizarre deaths of his colleagues, he tries desperately to piece together the chain of events. With the solar eclipse, a sudden drop in temperature of the mesosphere, and a rip in the ozone layer, Jack concludes that these elements have combined to create the ultimate disaster - a new ice age.
Special Features:


Video Tracks:
1.78:1 anamorphic widescreen

Audio Tracks:
Dolby Digital 5.1 Surround English

Directed By:
Brian Trenchard-Smith

Written By:
Jason Bourque

Starring:
Michael Shanks
Alexandra Davies
Saskia Hampele
Indiana Evans
Robert Mammone
Bruce Davison

Casting By:
Fern Champion
Ginette D'Amico
Ann Fay
Peter Rasmussen

Music From:
Mario Sévigny

Director of Photography:
Marc Windon

Editor:
Robert E. Newton

Costume Designer:
Joanne Collins

Production Designer:
Leslie Binns

Producer:
Stefan Wodoslawsky
Gina Black

Executive Producer:
Tom Berry
Pierre David
Antony I. Ginnane
Ann Lyons

Distributor:
Lionsgate