Tekken: Blood Vengeance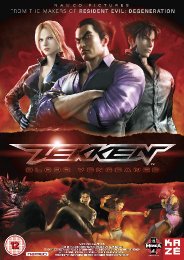 The ultimate Tekken experience!
Certificate: 12
Running Time: 88 mins
Retail Price: £15.99
Release Date: 2012
Content Type: Movie
Synopsis:
The stage for a final showdown is prepared as Anna Williams and the G Corporation set a trap for her sister Nina, who works for Jin Kazama, head of the Mishima Zaibatsu. Both Jin and his father, Kazuya Mishima of the G Corporation, seek to possess and control the M Cell that will unlock the destructive supernatural powers buried within the Mishima bloodline.

Kazuya dispatches Ling Xiaoyu to a prestigious international school to spy on Shin Kamiya, a victim of secret genetic experiments and may hold the key to the M Cell. While investigating Shin, Xiaoyu befriends Alisa Bosconovitch who also shows an interest in Shin. Their new friendship is put to the test as they are caught in the middle of the Mishima family feud.

The final battle explodes in a three way battle. Who will claim the M Cell and unlock the full power of the Devil Gene?!
Special Features:
Trailers

Video Tracks:
1.78:1 anamorphic widescreen

Audio Tracks:
Dolby Digital 5.1 Surround English
Dolby Digital 5.1 Surround Japanese
Dolby Digital 5.1 Surround French
Dolby Digital 5.1 Surround Italian

Subtitle Tracks:
English
French
Italian
Dutch

Directed By:
Yoichi Mori

Written By:
Dai Sato

Starring:
Akeno Watanabe
Atsuko Tanaka
Isshin Chiba
Maaya Sakamoto
Mamoru Miyano
Masanori Shinohara
Unshou Ishizuka
Yuki Matsuoka
Carrie Keranen
Charlotte Bell
Cristina Vee
Darren Daniels
David Vincent
Jamieson Price
Tara Platt
Kyle Herbert

Music From:
Hitoshi Sakimoto

Costume Designer:
Kuniko Hojo

Production Designer:
Satoshi Kuroda
Shiho Tamura

Producer:
Hirofumi Inagaki
Hisanori Kunisaki
Syouichi Tanaka
Yoshinari Mizushima

Distributor:
Manga Entertainment