March of the Dinosaurs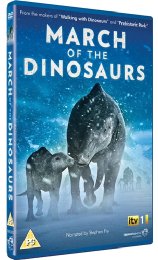 Certificate: PG
Running Time: 85 Mins
Retail Price: £17.99
Release Date: 27/07/2011
Content Type: Movie
Synopsis:
The Arctic: 70 million years ago. It is a world of extremes. Tropical summers of 24hr sunlight are replaced by freezing winters of continuous night. The remarkable dinosaurs that lived under the Northern Lights had to make a choice, brave the winter or head south to find the sun.
Join Scar, a young Edmontosaurus embarking on his first thousand-mile migration. It is a journey for survival that is fraught with danger; blizzards, volcanic eruptions and deadly predators lie ahead. Meanwhile Patch, a juvenile Troodon, left alone in the North, must learn to survive in one of the harshest environments the Earth has ever known. 

This is survival of the fittest at its most extreme and this heart-thumping emotional tale packed with epic scenes of a polar odyssey will have the whole family enthralled.
Special Features:
Making of (approx 15 minutes)
Commentary with Matthew Thompson (director & writer), Jasper James (Executive Producer) and Mike Davis (Producer)
Trailer
Storyboards
Downloadable dinosaur fact files
Downloadable dinosaur posters
Downloadable dinosaur colouring-in sheets

Related Websites:
http://www.fremantlehomeentertainment.com/television/March%20of%20the%20Dinosaurs

Distributor:
Fremantle Home Entertainment