The Woman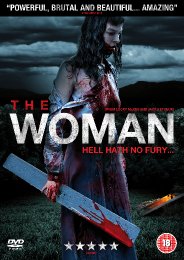 Certificate: 18
Running Time: 98mins
Retail Price: £14.99
Release Date: Out Now
Content Type: Movie
Synopsis:
"[THE] HORROR FILM OF THE YEAR SO FAR, AND LIKELY TO BE ONE OF THE MOST MEMORABLE AND CELEBRATED OF THE COMING DECADE" Eyeforfilm.co.uk

When lawyer and proud family man Chris Cleek (Bridgers) stumbles across a wild, feral woman (McIntosh) bathing in a woodland stream near his isolated country home, he immediately makes a decision that will dramatically change both their lives.

Chris captures the woman and chains her up in the fruit cellar below his house, intending to tame and civilize her. To assist him, he enlists the help of his long-suffering wife Belle (Bettis), their two teenage children, Peggy and Brian, and even their youngest daughter, Darlin'. But when the task at hand proves to be more difficult than first imagined, the Cleek family's fascination and well-intentioned compassion quickly turns to abhorrence and sadistic cruelty. Now, the animal in everyone is about to be revealed, along with one or two of Chris' other little secrets.

Directed by Lucky McKee (The Woods; Masters Of Horror; May) and co-written by award winning horror novelist Jack Ketchum (Red; The Girl Next Door; The Lost), the film stars Angela Bettis (Toolbox Murders; Carrie; May), Sean Bridgers (Deadwood) and Pollyanna McIntosh (Burke And Hare; Exam; Land Of The Lost) in a savage and harrowing film examining the darkness of human nature.
Special Features:
The Making of 'The Woman',
Deleted Scenes,
Short Film - 'Mi Burro'
Meet The Makers,
Music track 'Distracted' by Sean Spillane
5 Exclusive Limited Edition Art Cards (HMV only)

Blu-Ray Exclusive: Film Four Frightfest Total Film Panel with Lucky McKee

Directed By:
Lucky McKee

Written By:
Lucky McKee

Starring:
Pollyanna McIntosh
Sean Bridgers
Angela Bettis
Lauren Ashley Carter
Zach Rand
Lauren Petre

Casting By:
Cindi Rush

Soundtrack By:
Sean Spillane

Music From:
Sean Spillane

Director of Photography:
Alex Vendler

Editor:
Zach PasseroA

Costume Designer:
Sandra Alexandre
Michael Bevins

Production Designer:
Krista Gall

Producer:
Robert Tonino
Andrew Van Den Houten

Executive Producer:
Frank Olsen
Lluis Fe Perez
Loren Semmens

Distributor:
Revolver Entertainment