OMG! The Top 50 Incidents in WWE History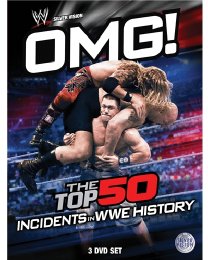 Certificate: 18
Running Time: 329 Mins
Retail Price: £29.99
Release Date: 26/09/2011
Content Type: Movie
Synopsis:
They're the moments you will never forget; events that left an indelible impression on the WWE universe.

Now you can relive them all with OMG! The Top 50 incidents in WWE history, a countdown of all the controversial, amazing and intense moments over the past 25 years. Featuring the exploits of Stone Cold Steve Austin, Undertaker, Triple H, Edge, Shawn Michaels, Randy "Macho Man" Savage, John Cena and more.

OMG! The Top 50 incidents DVD will start countless passionate debates as fans argue what moments should be in the top ten, number one or off the list completely.
Special Features:
Rowdy Roddy Piper Gives Haiti Kid a Haircut

Jake The Snake Roberts Attacks Macho Man Randy Savage

The Rockers Split on the Barber Shop

WWE Championship Match
Shawn Michaels vs. Diesel

Intercontinental Championship Match
Hunter Hearst-Helmsley vs. Undertaker

Stone Cold Stunner to Mr. McMahon

Hell in a Cell Match
Mankind vs. Undertaker

Mr. McMahon's Ceremony to Crown a New WWE Champion

Stone Cold Gives the Corporation a Beer Bath

Dearly Departed

Hardcore Championship Match
Shane McMahon vs. Steve Blackman

Tables, Ladders & Chairs II for the WWE Tag Team Championship
The Hardy Boyz vs. The Dudley Boyz vs. Edge & Christian

Street Fight
Kurt Angle vs. Shane McMahon

Kurt Angle's Milk Delivery

Stone Cold Steve Austin Brawls with Booker T in the Supermarket
SmackDown - 13th December, 2001

WWE Championship Match
Brock Lesnar vs. Big Show

Concrete Crypt Match
Undertaker vs. The Dudley Boyz

The Highlight Reel with Trish Stratus & Lita

WWE Championship Match
John Cena vs. Edge

Hardcore Match
Mick Foley vs. Edge

Mr. McMahon Appreciation Night

Special Feature

Jerry 'The King' Lawler's Outtakes

Related Websites:
http://www.silvervision.co.uk/products/OMG-The-Top-50-Incidents-in-WWE-History-DVD-3-Discs.html

Distributor:
Clear Vision Ltd