Voyage To The Bottom Of The Sea: Series 3 Box Set (7 Discs)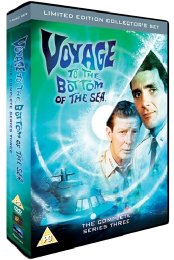 Certificate: PG
Running Time: 21 Hours
Retail Price: £39.99
Release Date: 04/09/2011
Content Type: TV Series
Synopsis:
As the SSRN Seaview's ongoing mission continues, her crew boldly defends the free world from the enemies of mankind, battling sinister foreign powers, deadly sea creatures, deranged scientists bent on world domination and the imminent threat of nuclear doomsday. The brainchild of Irwin Allen, Voyage To The Bottom Of The Sea was years ahead of its time, reflecting the key social and political issues of its day, and captivating audiences with its unique hybrid of science fiction spectacle and espionage thriller. Step aboard a futuristic atomic submarine, and see what danger lurks just below the surface in this innovative and exciting TV classic!

Episodes comprise
1. Monster from the Inferno
2. Werewolf
3. Day of Evil
4. Night of Terror
5. The Day the World Ended
6. The Terrible Toys
7. Deadly Waters
8. Thing from Inner Space
9. Deadly Invasion
10. The Death Watch
11. The Lost Bomb
12. The Plant Man
13. The Brand of the Beast
14. The Creature
15. The Haunted Submarine
16. Death from the Past
17. The Heat Monster
18. The Fossil Men
19. The Mermaid
20. The Mummy
21. Shadowman
22. No Escape from Death
23. Doomsday Island
24. The Wax Men
25. Deadly Cloud
26. Destroy Seaview!
Special Features:
David Hedison Interview
1966 Audio Interviews (Richard Basehart & David Hedison)
Still Galleries
Original US Broadcast Information

Video Tracks:
1.33:3 Colour

Audio Tracks:
Mono

Directed By:
Irwin Allen

Written By:
Irwin Allen + others

Starring:
Richard Basehart
David Hedison
Robert Dowdell
Del Monroe
Terry Becker
Paul Trinka