Faster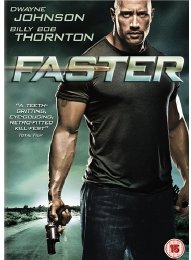 Certificate: 15
Running Time: 94 Mins
Retail Price: £9.99
Release Date: 01/08/2011
Content Type: Movie
Synopsis:
After 10 years in prison, Driver (Dwayne Johnson) has focused on one thing - hunting down the people responsible for brutally murdering his brother.
Now a free man with a terrifying purpose, he sets out to find and kill all those on his list. But on his heals are two men who will do anything to stop him - a veteran cop (Billy Bob Thornton) and a hitman (Oliver Jackson-Cohen) who finds his match in this worthy opponent. Now, the hunter is also the hunted.
Special Features:
Alternate Ending with Director's Introduction
Deleted Scenes with Director's Introduction

Related Websites:
http://www.sonypictures.com/homevideo/catalog/catalogDetail_DVD043396371514.html

Directed By:
George Tillman Jr.

Starring:
Dwayne Johnson
Mauricio Lopez
Jim Gaines
Oliver Jackson-Cohen
Tom Berenger
Jan Hoag
Courtney Gains
Billy Bob Thornton
Michael Irby
Josh Clark
Carla Gugino
Michael Blain-Rozgay
Mike Epps
Sidney S. Liufau
Maggie Grace

Distributor:
Sony Pictures Home Entertainment