Lexx: The Complete Series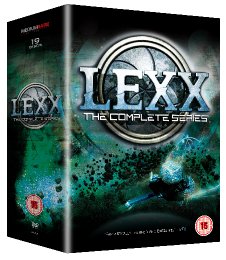 Certificate: 15
Running Time: 2992 Mins
Retail Price: £69.99
Release Date: 28/03/2011
Content Type: TV Series
Synopsis:
Sci-Fi with an Attitude!

Follow the adventures of a group of desperate fugitives aboard the Lexx, "the most powerful destructive force in the two universes." The Lexx is a massive bio-engineered spacecraft that resembles a wingless dragonfly. It is capable of destroying a planet with ease, and then eats the debris as a source of fuel. The crew of the Lexx are motivated largely by fear, lust, and hunger: factors that gradually come to dominate their lives more and more!

A cult hit known for it's quirky, sexually charged adult storylines 'boldly' taking sci-fi where others had not gone before!

Special Features:
Featurettes
Cast and crew interviews
On set footage
Stills gallery

Related Websites:
http://www.pinkpigeon.net/tag/mediumrare-entertainment/

Starring:
Brian Downey, Eva Habermann, Michael McManus, Jeffrey Hirschfield, Tom Gallant, Jeremy Akerman, Walter Borden, Barry Bostwick, Jamie Bradley, Gil Brenton, Anna Cameron, Bill Carr, Jack Carr, Jocelyn Cunningham, John Dartt

Distributor:
Mediumrare Entertainment