Biutiful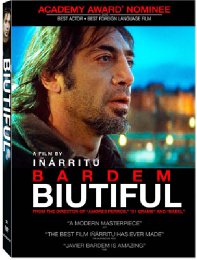 Certificate: 15
Running Time: 141 minutes
Retail Price: £15.99
Release Date: 16/05/11
Content Type: Movie
Synopsis:
From the director of Amores Perros, 21 Grams
& Babel

BIUTIFUL

"Bardem is magnificent and brave"
*****
TOTAL FILM

"A shattering portrait of life, death and redemption"
****
LITTLE WHITE LIES

Out To Own On DVD, Blu-ray & EST
16th May 2011

Oscar-nominated for Best Foreign Language Film and Best Actor for Javier Bardem's towering performance, Biutiful is directed by Mexican auteur Alejandro González Iñárritu (Amores Perros, 21 Grams), andtells the story of a man who struggles to reconcile fatherhood, love, spirituality, crime, guilt and mortality amidst the dangerous underworld of modern Barcelona.
Uxbal (Javier Bardem, No Country For Old Men, Vicky Cristina Barcelona) is a man with a bright side and a dark side. On the one hand a caring father, strong but affectionate towards his two children, he struggles to maintain a healthy relationship with their mother, Marambra (Maricel Alvarez), despite her problems with alcohol and instability. But Uxbal is also a criminal who oversees a small underground empire alongside his impulsive brother Tito (Eduard Fernandez) and fellow crime boss Hai.

Uxbal's dealings range from drugs to construction, but unlike his partners, he tries to treat those around him with dignity even as he trades in human misery. Uxbal's precarious world begins to collapse when he's diagnosed with a serious illness and told he has only a few weeks left to live; he comes to consider what his life will mean for the legacy he leaves his children, and sets about trying to make a better life for them before he departs.
Special Features:
Director's Flip Notes (making of)
Javier Bardem Interview
Marciel Alvarez interview
Eduard Fernandez interview
Trailers
Biutiful Crew

Video Tracks:
ColourPal
2.35:1

Audio Tracks:
Dolby Digital 5.1

Subtitle Tracks:
English

Directed By:
Alejandro González Iñárritu

Starring:
Javier Bardem
Maricel Alvarez

Distributor:
Opimum Home Releasing