Saint, The: Volume 2 (UK)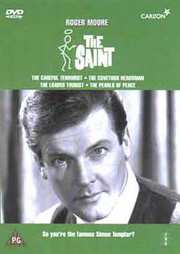 So you`re the famous Simon Templar?
Certificate: PG
Running Time: 192 mins
Retail Price: £15.99
Release Date:
Content Type: TV Series
Synopsis:
Roger Moore is Simon Templar, better known as The Saint. The Saint out-swindles the swindlers for the good of the little guy: he`s handsome, charming, suave and sophisticated.

Episode 3 - The Careful Terrorist
When one of his closest friends is murdered in New York, The Saint goes on the trail of his killer and comes up against a crooked union boss.

Episode 4 - The Covetous Headsman
The Saint becomes involved with a young woman whose long lost brother has been murdered and discovers that wearing a Saint Christopher can be dangerous.

Episode 5 - The Loaded Tourist
The Saint witnesses a murder and finds himself in the midst of a mystery involving a faithless wife and smuggled jewels.

Episode 6 - The Pearls Of Peace
In Mexico, The Saint runs into an old friend who asks him to loan him money to fund an expedition to locate fabled jewels - the pearls of San Domingo.
Special Features:
Interactive Menus
Scene Access
Stills Gallery
Original USA novels
The Saint`s Volvo

Video Tracks:
Standard 1.33:1

Audio Tracks:
Dolby Digital Mono English

Subtitle Tracks:
CC: English

Directed By:
Michael Truman
Jeremy Summers
David Greene
John Ainsworth

Written By:
Dick Sharples
John Roddick
Gerald Kelsey
Richard Harris

Starring:
Roger Moore
Ivor Dean

Casting By:
Anthony Arnell

Soundtrack By:
Gary Osborne
Leslie Charteris
Edwin T. Astley
Chris Andrews

Director of Photography:
Brendan J. Stafford
Michael Reed
Lionel Banes

Editor:
Bert Rule
Inman Hunter
Lee Doig

Costume Designer:
Norman Hartnell

Producer:
Lew Grade
Johnny Goodman
Monty Berman
Robert S. Baker

Distributor:
Carlton