Randall And Hopkirk (Deceased): Volume 2 (UK)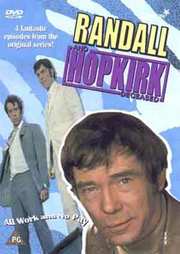 4 episodes
Certificate: PG
Running Time: 192 mins
Retail Price: £15.99
Release Date:
Content Type: TV Series
Synopsis:
It`s good to have on your side in the private eye business, especially in cases when an invisible ally can really turn the tide in your favour. Mike Pratt plays Jeff Randall and Kenneth Cope is his ghostly partner Marty Hopkirk, cursed to wander earth for 100 years.

Episode 3 - All Work And No Pay
Poor Jean is plagued by a poltergeist. She is convinced that it is Marty`s ghost trying to get in touch with her and hires suspicious spirtualists the Foster Brothers to try to establish contact.

Episode 4 - Never Trust A Ghost
Wandering the streets of London one night Marty witnesses a man, Howarth, being shot dead in his home. Jeff summons the police but Howarth appears alive and well... Marty, however, is unconvinced.

Episode 5 - That`s How Murder Snowballs
A Russian Roulette act at a Music Hall goes horribly wrong when the mind reader is shot dead in front of the audience including Jeff and Marty! Special Guest Star: David Jason.

Episode 6 - Just For The Record
Jeff and Jean act as escorts at an international beauty contest. During a sight-seeing tour Marty`s suspicions are aroused by Miss London`s odd behaviour.
Special Features:
Interactive Menus
Scene Access
Stills Gallery
Original Artwork
Original UK Title Sequence

Video Tracks:
Standard 1.33:1

Audio Tracks:
Dolby Digital Mono English

Subtitle Tracks:
CC: English

Directed By:
Jeremy Summers
Leslie Norman
Paul Dickson

Written By:
Tony Williamson
Gerald Kelsey
Donald James

Starring:
Ivor Dean
Annette Andre
Kenneth Cope
Mike Pratt

Soundtrack By:
Edwin T. Astley

Producer:
Monty Berman

Distributor:
Carlton