Land Of The Giants: The Complete Series 1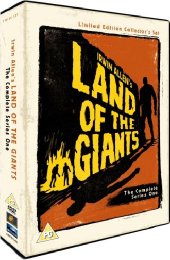 Certificate: PG
Running Time: 22 Hours
Retail Price: £39.99
Release Date: 28/03/2011
Content Type: TV Series
Synopsis:
Debuting in 1968 and lasting just two all-too-brief series, Land Of The Giants, the original science-fiction/adventure series created by sci-fi visionary Irwin Allen has far outlived its initial run.

Taking on a remarkable life of its own, the show maintained an astonishing degree of popularity, spawning worldwide fan clubs, newsletters and convention appearance.

Now, for the first time in the UK, the first series on this cult classic comes to DVD in a wonderful 7 disc set, which includes some fantastic Special Features!
Special Features:
Unaired Version Of The Pilot Episode
Gary Conway Interviews
Don Marshall Interviews
Presentation Reel
Special Effects Shots
Irwin Allen Home Movies
Stefan Arngrim Interviews
Don Matheson Interviews
Leanna Lund Interviews
Still Galleries

Written By:
Irwin Allen (51 episodes, 1968-1970)
Bob Mitchell (12 episodes, 1968-1970)
Esther Mitchell (12 episodes, 1968-1970)
William Welch (10 episodes, 1968-1970)
Anthony Wilson (9 episodes, 1968-1970)
Richard Shapiro (4 episodes, 1969-1970)
Arthur Weiss (4 episodes, 1969)
Bob Duncan (3 episodes, 1969-1970)
Wanda Duncan (3 episodes, 1969-1970)
William L. Stuart (3 episodes, 1969-1970)
Daniel B. Ullman (3 episodes, 1969-1970)
Ellis St. Joseph (2 episodes, 1968)
Jack Turley (2 episodes, 1968)
Sidney Marshall (2 episodes, 1969-1970)
Sheldon Stark (1 episode, 1969)

Starring:
Gary Conway, Don Matheson, Stefan Arngrim, Don Marshall, Deanna Lund, Heather Young & Kurt Kasznar