Kurau: Phantom Memory - Volume 5: Twin Destinies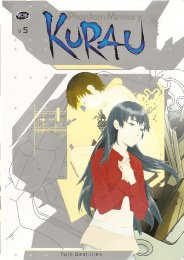 The Enemy Of My Enemy
Certificate:
Running Time: 94 mins
Retail Price: $29.98
Release Date: 2007
Content Type: TV Series
Synopsis:
Her name is Kurau, and in a world of mercenary agents, she's the cream of the elite; a master swordswoman, martial artist and thief so skilled that no secret or objective is beyond her grasp. The greatest secret of all, however, is the one Kurau conceals inside herself: as the freak result of a disastrous experiment with a new kind of energy, Kurau's body has been fused with a binary alien life form called the Rynax.

The barriers between good and evil shatter as a shocking series of revelations turn Kurau's world upside down! While Ayaka finally learns the truth about her family's murder, Kurau and Christmas are confronted with horrifying evidence that their opponents may have been right all along! And if the Rynax really are a deadly threat to humanity, on whose side must they stand?

With allegiances to one's own species in question, boundaries between friend and foe cease to exist and surprising new alliances are formed! But as more rogue Rynax appear and the body count continues to rise, only Kurau can prevent the holocaust that may engulf both sides!
Special Features:
Production Artwork
Key Words
Clean Opening Animation
Clean Closing Animation
Previews
Booklet with interviews and more

Video Tracks:
4:3 regular

Audio Tracks:
Dolby Digital 5.1 Surround English
Dolby Digital 2.0 Stereo Japanese

Subtitle Tracks:
English

Directed By:
Yasuhiro Irie

Written By:
Yasuhiro Irie
Aya Yoshinaga

Starring:
Ayako Kawasumi
Misa Kobayashi
Mitsuru Ogata
Tohru Furusawa
Tomoyuki Shimura
Yuko Kaida
Akio Nojima
Yoji Matsuda
Nobuo Tobita
Ryoko Ono
Minoru Inaba
Sumi Shimamoto
Mitsunori Isaki
Makoto Yasumura
Jessica Boone
Monica Rial
George Manley
Greg Ayres
Illich Guardiola
Jason Douglas
John Gremillion
John Swasey
Kelly Manison
Rick Peeples
Shelley Calene-Black
Tiffany Grant
Vic Mignogna
Victor Carsrud

Music From:
Yukari Katsuki

Director of Photography:
Youichi Oogami

Editor:
Kengo Shigemura

Producer:
Masahiko Minami
Schreck Hedwick
Shiro Sasaki
Toshihiko Nakajima

Distributor:
ADV Films