Kurau: Phantom Memory - Volume 4: Mirror Image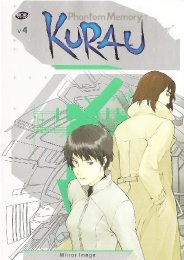 Deadly Homecoming
Certificate:
Running Time: 94 mins
Retail Price: $29.98
Release Date: 2007
Content Type: TV Series
Synopsis:
Her name is Kurau, and in a world of mercenary agents, she's the cream of the elite; a master swordswoman, martial artist and thief so skilled that no secret or objective is beyond her grasp. The greatest secret of all, however, is the one Kurau conceals inside herself: as the freak result of a disastrous experiment with a new kind of energy, Kurau's body has been fused with a binary alien life form called the Rynax.

A flight to sanctuary turns into triple jeopardy when Kurau and Christmas' shuttle is attacked twice; first by hijackers and then by the GPO! But surviving a three-sided battle in space and a blazing rain of burning wreckage is the least of what the Rynax pair must face, as a new being with powers equal to Kurau's own finally reveals itself... and it wants Christmas for its own!

A return to a haven from Kurau's past becomes the launching point for a terrifying new odyssey!
Special Features:
Production Artwork
Japanese CD Spots
Key Words
Clean Opening Animation
Clean Closing Animation
Previews
Booklet with interviews and more

Video Tracks:
4:3 regular

Audio Tracks:
Dolby Digital 5.1 Surround English
Dolby Digital 2.0 Stereo Japanese

Subtitle Tracks:
English

Directed By:
Yasuhiro Irie

Written By:
Yasuhiro Irie
Aya Yoshinaga

Starring:
Ayako Kawasumi
Misa Kobayashi
Mitsuru Ogata
Tohru Furusawa
Tomoyuki Shimura
Yuko Kaida
Akio Nojima
Yoji Matsuda
Nobuo Tobita
Ryoko Ono
Minoru Inaba
Sumi Shimamoto
Mitsunori Isaki
Makoto Yasumura
Jessica Boone
Monica Rial
George Manley
Greg Ayres
Illich Guardiola
Jason Douglas
John Gremillion
John Swasey
Kelly Manison
Rick Peeples
Shelley Calene-Black
Tiffany Grant
Vic Mignogna
Victor Carsrud

Music From:
Yukari Katsuki

Director of Photography:
Youichi Oogami

Editor:
Kengo Shigemura

Producer:
Masahiko Minami
Schreck Hedwick
Shiro Sasaki
Toshihiko Nakajima

Distributor:
ADV Films