Star Trek (2009) - 2-Disc Special Edition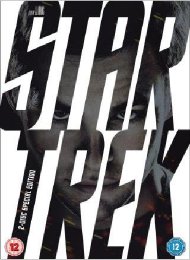 The future begins...
Certificate: 12
Running Time: 122 mins
Retail Price: £24.99
Release Date: 2009
Content Type: Movie
Synopsis:
Director J.J. Abrams (Alias) re-teams with his MI: III screenwriters Alex Kurtzman and Roberto Orci to bring a new vision of the greatest space adventure of all time. Featuring a young, new crew venturing boldly where no man has gone before, Star Trek depicts Romulan time traveller Nero's bloody quest for revenge against Spock and the Federation.
Special Features:
Commentary by director J.J. Abrams, writers Robert Orci and Alex Kurtzman, producer Damon Lindelof and executive producer Bryan Burk.
A New Vision - J.J. Abrams vision was not only to create a Star Trek that was a bigger, more action-packed spectacle, but also to make the spectacle feel real. Every aspect of production-from unique locations to the use of classic Hollywood camera tricks was guided by this overall objective.
Gag Reel - Bloopers featuring the entire principal cast.
Deleted Scenes with Optional Commentary
To Boldly Go - Taking on the world's most beloved science fiction franchise was no small mission. Director J.J. Abrams, writers Roberto Orci and Alex Kurtzman, producer Damon Lindelof, and executive producer Bryan Burk talk about the many challenges they faced and their strategy for success.
Casting - The producers knew their greatest task was finding the right cast to reprise these epic roles. The cast, for their part, talk about the experience of trying to capture the essence of these mythic characters. The piece concludes with a moving tribute to Leonard Nimoy. Aliens - Designers Neville Page and Joel Harlow talk about the hurdles they faced creating new alien species, recreating the Romulans and Vulcans, and designing the terrifying creatures on Delta Vega for the new Star Trek.
Score - As a fan of the original series, composer Michael Giacchino embraced the challenge of creating new music for Star Trek while preserving the spirit of Alexander Courage's celebrated theme.

Video Tracks:
2.40:1 anamorphic widescreen

Audio Tracks:
Dolby Digital 5.1 Surround English
Dolby Digital 5.1 Surround Audio Descriptive English

Subtitle Tracks:
English
Danish
Dutch
Finnish
Swedish
Norwegian

Directed By:
J.J. Abrams

Written By:
Roberto Orci
Alex Kurtzman
Gene Roddenberry

Starring:
Chris Pine
Zachary Quinto
Leonard Nimoy
Eric Bana
Bruce Greenwood
Karl Urban
Zoe Saldana
Simon Pegg
John Cho
Anton Yelchin
Ben Cross
Winona Ryder
Chris Hemsworth
Jennifer Morrison

Casting By:
April Webster
Alyssa Weisberg

Music From:
Michael Giacchino

Director of Photography:
Daniel Mindel

Editor:
Maryann Brandon
Mary Jo Markey

Costume Designer:
Michael Kaplan

Production Designer:
Scott Chambliss

Producer:
J.J. Abrams
Damon Lindelof

Executive Producer:
Roberto Orci
Alex Kurtzman
Bryan Burk
Jeffrey Chernov

Distributor:
Paramount Pictures