Bleach: Series 5 Part 2 (2 Discs) (UK)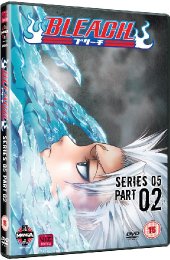 Taking on the afterlife, one soul at a time!
Certificate: 15
Running Time: 247 mins
Retail Price: £19.99
Release Date: 2010
Content Type: TV Series
Synopsis:
Ichigo Kurosaki is an ordinary 15-year-old boy who happens to be able to see ghosts. His fate takes an extraordinary turn when he meets Rukia Kuchiki, a Soul Reaper who shows up at Ichigo's house on the trail of a Hollow, a malevolent lost soul. Drawn to Ichigo's high level of spiritual energy, the Hollow attacks Ichigo and his family. Rukia steps in to help, but is injured and unable to fight. As a last resort she decides to transfer a part of her Soul Reaper powers to Ichigo. Now a fully-fledged Soul Reaper, Ichigo joins together with Rukia, minus her powers, to face whatever challenges lie ahead…

The deadly Bounts have infiltrated the Soul Society seeking revenge, and Ichigo and his comrades are quick to follow. But with the large amounts of reishi available in the Soul Society, the Bounts' power seems nearly limitless, and even the most formidable Soul Reaper captains have a grueling fight on their hands.

At the Department of Research and Development, Bount leader Jin Kariya is after the Bount Crest known as Jokaisho, which has the power to blow all of the Seireitei away, and only Ichigo and Chad stand in his way!
Special Features:
Textless Closing
Production Art Galleries
Manga Trailers

Video Tracks:
Standard 1.33:1

Audio Tracks:
Dolby Digital Stereo 2.0 Japanese
Dolby Digital Stereo 2.0 English

Subtitle Tracks:
English

Written By:
Tite Kubo

Starring:
Quinton Flynn
Johnny Yong Bosch
Masakazu Morita
Fumiko Orikasa
Yuki Matsuoka

Distributor:
Manga Entertainment Ltd