Robot Chicken: Star Wars Episode Two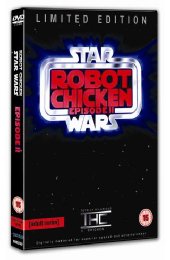 Certificate: 15
Running Time: 45 Mins
Retail Price: £14.99
Release Date: 27/09/2009
Content Type: TV Series
Synopsis:
The chicken strikes back as [adult swim] travels once again to a galaxy far, far away to release the second, all-new Star Wars-themed special of Robot Chicken that includes a special extended edition with 15 minutes of brand-new footage and over 90 minutes of special features. Creators Seth Green and Matthew Senreich, Robot Chicken: Star Wars Episode II transform the galaxy into the stop-motion animation world that is the hallmark of Robot Chicken.

Many of the Star Wars characters from the first special return, as well as fan favorites Bossk, IG-88, Zuckus, 4-LOM, Dengar and others, who set off on a quest to capture Han Solo. Viewers will be reunited with Emperor Palpatine, who gets the idea to place an ad for bounty hunters from his barber. Gary the Stormtrooper has to suffer through Bring Your Daughter to Work Day, not so easy when your boss is Darth Vader. You will understand why Anakin should never babysat the young Jedis-in-training and witness Luke Skywalker and Darth Vader share a rare father-son bonding moment.

The DVD features Star Wars veterans Carrie Fisher (Princess Leia), Billy Dee Williams (Lando Calrissian) and Ahmed Best (Jar Jar Binks) as well as Seth MacFarlane, Breckin Meyer and Seth Green as once again the Robot Chicken crew take a twisted look at all six Star Wars films and intergalactic hilarity ensues!
Special Features:
Limited Edition Foil Packaging
Chicken Nuggets
The making of Robot Chicken: Star Wars Episode II
Behind the Scenes: Sneak Peek
Skywalker Ranch Premiere
501st Visit
Animation Meeting
Accepted/Rejected
Time Lapse
Production Design
Video Blogs
Deleted Animatics
Alternate Audio
On-Air Bumps
Trailers

Related Websites:
http://www.revolvergroup.com/uk/

Starring:
Seth Green, Seth MacFarlane, Breckin Meyer, Bob Bergen, Abraham Benrubi, Ahmed Best, Hugh David, Keith Ferguson, Conan O'Brien, Adrianne Palicki, Carrie Fisher, Billy Dee Williams, Donald Faison

Distributor:
Revolver Entertainment