Wimbledon: 2010 Official Film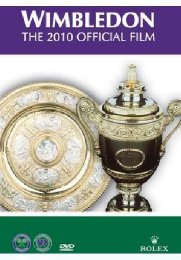 Certificate: Exempt
Running Time: 60 mins
Retail Price: £13
Release Date: 06/09/10
Content Type: TV Series
Synopsis:
Wimbledon 2010: The Grandest of Slams

This is the definitive story of the 124th Championships. In the Men's Singles, the world number one Rafael Nadal returned to SW19 having missed Wimbledon last year with knee injuries. He was determined to recapture the crown he had won in 2008. In the Women's Singles defending champion Serena Williams was attempting to win her 13th Grand Slam title.

The 2010 Championships was a royal tournament thanks to the first visit to The All England Club by Her Majesty the Queen for thirty-three years. It was also a record-breaking occasion in many ways, most notably in an unforgettable first round marathon Men's Singles match between the American John Isner and France s Nicholas Mahut which ended 70-68 in the fifth set, smashing virtually every record in the sport.

The defending champion Roger Federer crashed out at the quarter-final stage, beaten 6-4, 3-6, 6-1, 6-4 by the twelfth seeded Tomas Berdych of the Czech Republic.

Andy Murray once again carried the hopes of the home nation. In the semi final he came up against Rafael Nadal but the Spaniard progressed through to his fourth Wimbledon final 6-4, 7-6, 6-4.

Serena Williams defeated Russia's Vera Zvonareva 6-3, 6-2 in the Women s Final. She served 89 aces throughout the Championships, beating her own record set in 2009.

In the Men's Final Rafael Nadal secured his second Wimbledon title defeating Federer s conqueror Berdych 6-3, 7-5, 6-4 to take his tally of Grand Slam titles to eight.

Narrated by Sam Hazeldine, written by Barry Flatman of the Sunday Times and featuring exclusive contributions from Rafael Nadal, Serena Williams, Roger Federer, Martina Navratilova, Jimmy Connors and Billie Jean King, this documentary is a dramatic and highly entertaining record of the proceedings at The Lawn Tennis Championships at Wimbledon 2010.
Special Features:


Related Websites:
http://www.wimbledon.org

Directed By:
Cathy Jones

Written By:
Barry Flatman

Starring:
Rafael Nadal
Roger Federer
Tomas Berdych
Serena Williams
Vera Zvonareva
Andy Murray
Novak Djokovic

Director of Photography:
Steve Lidgerwood

Producer:
Cathy Jones

Executive Producer:
Graham Fry

Distributor:
Good Guys Media