The Lawnmower Man: 2-Disc Director's Cut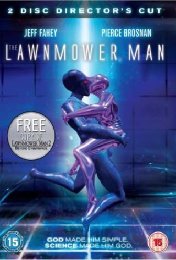 God made him simple. Science made him God!
Certificate: 15
Running Time: 141 mins + 89 mins
Retail Price: £9.99
Release Date: 2010
Content Type: Movie
Synopsis:
The Lawnmower Man: In this sci-fi thriller Pierce Brosnan plays Dr Lawrence Angelo, a brilliant scientist obsessed with perfecting a revolutionary Virtual reality computer software. When his experiments on animals fail, he finds the ideal substitute : Jobe Smith, a slow witted gardener - "The Lawnmower Man".

Dr Angelo's goal is to benefit his human guinea pig and ultimately mankind itself. But evil lurks in the guise of "The Shop", a shadowy group that seeks to use the technology to create an invincible war machine. When the experiments change the simple Lawnmower Man into a superhuman being, the stage is set for a Dr Jekyll and Mr Hyde struggle for the control of Jobe's mind and the future of the world.

Lawnmower Man 2 - Beyond Cyberspace: God Made Him Simple. Science Made Him A God. Now He Wants Revenge....

There is a clear distinct line between the fantasies you can imagine and what is real. It is a line that preserves sanity. It is a line that protects us from the danger of eternal confusion. One man has just discovered how to cross that line. Now he can penetrate a realm of infinite possibility, the world of virtual reality. He can annihilate our reality. He can create a diabolical new world, a universe where he is God. Only one man possesses the knowledge to stop him.....

Game on.....
Special Features:
Trailer
Deleted Scenes
Storyboard to Film Comparison
Featurette
Animated Montage

Video Tracks:
4:3 regular
1.85:1 letterbox

Audio Tracks:
DD 2.0 English

Subtitle Tracks:
English

Directed By:
Brett Leonard
Farhad Mann

Written By:
Brett Leonard
Gimel Everett
Michael Miner
Farhad Mann

Starring:
Jeff Fahey
Pierce Brosnan
Jenny Wright
Geoffrey Lewis
Jeremy Slate
Colleen Coffey
Austin O'Brien
Patrick Bergin
Matt Frewer
Ely Pouget
Crystal Celeste Grant
Kevin Conway

Distributor:
Universal
indiVision