Jane Goodall Collection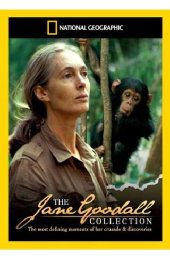 Certificate: E
Running Time: 130 Mins
Retail Price: £12.99
Release Date: 16/08/2010
Content Type: TV Series
Synopsis:
Dame Valerie Jane Morris Goodall, DBE is the British primatologist, ethologist, anthropologist, and UN Messenger of Peace best known her 45-year study of chimpanzee social and family interactions in Gombe Stream National Park, Tanzania.

Her original discoveries about chimpanzee behaviour stunned the scientific community and in this National Geographic collection, we follow some of the most defining moments of her work and discoveries.

Among The Wild Chimpanzees: In 1960 Jane set out for Tanzania's remote Gombe Stream Game Reserve to study the behaviour of man's closest living relative, the chimpanzee. With dedication and perseverance she earned the trust of a wild chimp community and gradually they revealed their individual personalities and the rich tapestry of their daily life. This film looks at two decades of Jane's work, including her dramatic discovery of chimpanzees making and using tools.

Chimps On The Edge: Join Jane, explorer and conservationist Michael Fay and wildlife photographer Nick Nichols as they journey through the remote forests of West Africa and then on to Brazzaville where they meet the President of the Congo to push for further areas to be protected. Will the natural world's most formidable allies have the necessary impact in the corridors of power in Africa to save the last wild chimps?

The Life And Legend Of Jane Goodall: When she is not with her chimpanzees, Jane crusades for them in the outside world by writing books, delivering lectures, cajoling governments into protecting wild chimps and criticising current practices in medical research. National Geographic presents the always fascinating and at times controversial life of Jane Goodall, through her own eyes and those of the people who know her best.
Special Features:


Related Websites:
http://www.shopnatgeo.co.uk/

Distributor:
National Geographic