Down Terrace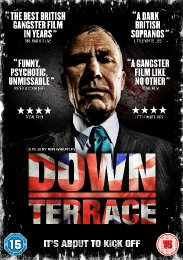 You're only as good as the people you know.
Certificate: 15
Running Time: 89
Retail Price: £15.99
Release Date: 23/08/2010
Content Type: Movie
Synopsis:
Fresh from watching his son Karl being acquitted in court, family head Bill returns to his terraced home in Brighton with dangerous questions swimming around his head. Questions which will lead to violence, recrimination and murder.

Who grassed him up to the police? How will top brass in London react to the recent downturn in profits from his criminal activities? And when will Karl finally get around to decorating the sitting room?

By turns thrilling and funny, shocking and authentic, DOWN TERRACE takes on themes of family, betrayal, immorality and cold-bloodied range.
Special Features:
● Short Film 'Rob Loves Kerry'
● Acting Test Bill & Karl
● Camera Test
● Extended Scene: Bill Talks about the 60's
● Extra Scene: Bill & The Toad
● Teaser/Festival Trailer
● The Amazing Wizards

Video Tracks:
Anamorphic Widescreen 2.35:1

Audio Tracks:
Dolby Digital 2.0 Stereo English

Directed By:
Ben Wheatley

Written By:
Ben Wheatley
Robin Hill

Starring:
Robin Hill
Robert Hill
Julia Deakin
David Schaal
Kerry Peacock
Tony Way
Mark Kempner
Michael Smiley
Gareth Tunley

Director of Photography:
Laurie Rose

Editor:
Robin Hill
Ben Wheatley

Producer:
Andrew Starke

Executive Producer:
Robin Hill
Ben Wheatley

Distributor:
Metrodome Distribution