The Kinks: Biography Channel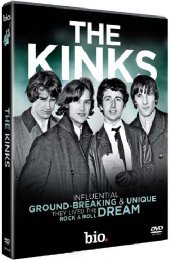 Certificate: U
Running Time: 44 Mins
Retail Price: £12.99
Release Date: 23/08/2010
Content Type: TV Series
Synopsis:
The 1960s brought the music of The Kinks to the world.

One of the most important bands in Rock history, The Kinks, led by singer/songwriter Ray Davies, were an English rock and roll group, which first hit our shores during the British Invasion in the 60s. While they may have not enjoyed the commercial success of The Beatles or The Rolling Stones, their unique sound and style defined genres and transcended eras.

Over the years, they have battled through family drama, the harsh realities of fame, and the coming and going of band mates, to remain one of the most highly regarded and influential rock bands of all time. Featuring great original footage of the band performing and insightful interviews, this DVD will be a must for Kinks fans everywhere.
Special Features: