WWE Tagged Classics: nWo Back in Black, Big Daddy Cool Diesel & Oozing Machismo! Razor Ramon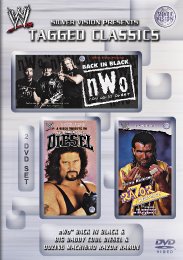 Certificate: 15
Running Time: 356 Mins
Retail Price: £19.99
Release Date: 09/08/2010
Content Type: TV Series
Synopsis:
Delve in to the history of the most important faction in the history of Sports Entertainment when WWE Tagged Classics: nWo Back in Black & Big Daddy Cool Diesel & Oozing Machismo! Razor Ramon.

One of the most controversial groups in sports entertainment history, nWo Back in Black charts the history of its three founding members and follows them from their time in the WWF, through their dominance of WCW in the late nineties, all the way to their swansong in WWE at the turn of the century. Covering the most significant moments in the nWo's existence, including Kevin Nash and Scott Hall 'invading' WCW and Hulk Hogan's infamous heel turn at Bash at the Beach 1996, nWo Back in Black also features in-depth interviews with all three members of the New World Order. This classic release plays host to a number of extra matches, including Scott Hall facing "Stone Cold" Steve Austin at WrestleMania X8 and the incredible two-ring, two-cage War Games Match from Fall Brawl 1996.

Packed with a series of classic matches Big Daddy Cool Diesel & Oozing Machismo! Razor Ramon showcases two of the most influential Superstars in Sports Entertainment in their prime. Watch Diesel take on all comers including brothers Owen and Bret "Hitman" Hart, while the WWE Universe can relive the revolutionary Ladder Match between Razor Ramon and "The Heartbreak Kid" Shawn Michaels.
Special Features:
Scott Hall, Kevin Nash & ? vs. Randy Macho Man Savage, Sting & Lex Luger
Bash at the Beach 1996

War Games Match
Hollywood Hogan, Scott Hall, Kevin Nash & nWo Sting vs. Ric Flair, Arn Anderson, Lex Luger & Sting
Fall Brawl1996

Kevin Nash vs. Goldberg
Starrcade 1998

Hollywood Hogan, Scott Hall, Kevin Nash vs. Stone Cold Steve Austin & The Rock
Monday Night Raw - 11/03/02

Related Websites:
http://www.silvervision.co.uk/products/nWo-Back-in-Black-Diesel-Razor-Ramon-DVD-2-Discs.html

Distributor:
Clear Vision Ltd