Mumsy, Nanny, Sonny & Girly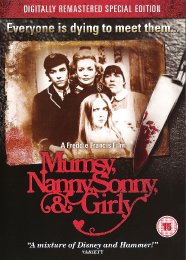 Everyone is dying to meet them...
Certificate: 15
Running Time: 102
Retail Price: £14.99
Release Date: 12/07/2010
Content Type: Movie
Synopsis:
Mumsy (Ursula Howells) and Nanny (Pat Heywood) along with overgrown "children" Sonny (Howard Trevor) and Girly (Vanessa Howard) are a happy family living together in a sprawling, decaying mansion. Sonny and Girly bring friends home to play but if they don't obey the rules, they have tried and "sent to the angels."

The arrival of "new friend" (Michael Bryant) - a man on the run after his girlfriend is accidentally killed whilst playing with Sonny and Girly - upsets the household with his very own brand of adult games, seducing the women of the house. Trouble is, Girly doesn't like to share her friends, not even with Mumsy and Nanny...

Directed by Academy Award® winning Cinematographer Freddie Francis, Mumsy, Nanny, Sonny & Girly (a.k.a. Girly in the US) is presented on DVD in widescreen for the very first time.
Special Features:
• Original Theatrical Trailer
• Spanish Trailer
• TV Spot
• Alternate US the Title Sequence
• Stills Gallery
• Trailers for Other Odeon Entertainment Releases

Video Tracks:
Anamorphic Widescreen 1.78:1

Audio Tracks:
Dolby Digital 2.0 Mono English

Directed By:
Freddie Francis

Written By:
Brian Cormort
Maisie Mosco

Starring:
Vanessa Howard
Michael Bryant
Ursula Howells
Pat Heywood
Howard Trevor
Robert Swann
Imogen Hassall
Michael Ripper
Hugh Armstrong

Casting By:
Rose Tobias Shaw

Soundtrack By:
Bernard Ebbinghouse

Director of Photography:
David Muir

Editor:
Tristram Cones

Producer:
Ronald J. Kahn

Distributor:
Odeon Entertainment