Cult Spaghetti Westerns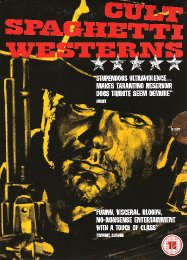 Certificate: 15
Running Time: 300
Retail Price: £24.99
Release Date: 21/06/2010
Content Type: Movie
Synopsis:
DJANGO
Banned in UK until the 90s, Sergio Corbucci's ground breaking western stars Franco Nero as Django, the mysterious lone gunfighter who arrives in a bleak, mud-drenched town. Caught in the middle of a violent feud between two gangs of sadistic bandits, Django will need to fight for his life armed with his devastating revolving Gatling gun. Music by Oscar® Winner Luis Enriquez Bacalov (IL POSTINO)

A BULLET FOR THE GENERAL aka QUIEN SABE?
During the Mexican Revolution, a covert US assassin sent to kill the Rebel "General" Elias, infiltrates a gang of bandits led by the charismatic El Chuncho (GianMaria Volonté - of the DOLLARS films) The gang which includes the crazed priest, El Santo (Klaus Kinski) and the beautiful Adelita (007's Martine Beswick) will unwittingly lead the gringo assassin to the General. Featuring music by Oscar® Winner Ennio Morricone.

KEOMA
This is director Enzo G. Castellari's (THE BRONX WARRIORS; the original INGLORIOUS BASTARDS) acknowledged Western masterpiece. Franco Nero is Keoma, a gunslinger who returns to his hometown to find it is now ruled by a gang of sadistic villains. Aided by his childhood friend, a superb banjo-playing Woody Strode, Keoma will fight the ruthless killers to the bitter deadly end.
Special Features:
• Exclusive in-depth presentations of the films by acclaimed filmmaker Alex Cox
• Exclusive interviews with Franco Nero, director Damiano Damiani and director Enzo G. Castellari
• Theatrical trailers
• Trailers for Argent Films' other western releases
• Reversible sleeves featuring original artwork

Video Tracks:
Anamorphic Widescreen

Audio Tracks:
Dolby Digital 2.0 Stereo English

Directed By:
Sergio Corbucci
Damiano Damiani
Enzo G. Castellari

Starring:
Franco Nero
Gian Maria Volonte
Klaus Kinski
Lou Castel
Martine Beswick